Contact us
Our headquarters are in London. This is where you'll come for most of our training courses, fairs and conferences. Our Liverpool office is the home of our research team. Both offices can be reached within 5 minutes walk of a train station.
London Office
352 Holloway Road, London N7 6PA
Telephone: 0207 697 4200
Email: cs@dsc.org.uk
Liverpool Office
Suite 103, 1 Old Hall Street, Liverpool L3 9HG
Email: research@dsc.org.uk
Find out more about DSC research
If you have a complaint
If you'd like to log a complaint, please click here to find out how to proceed.
__________________________________________________________________________________________________________________________________________________________________
How to find the London office
352 Holloway Rd, London, N7 6PA
London Underground
We are just 5 minutes from Holloway Road Underground
Holloway Road: Piccadilly Line – turn left out of the station exit and walk for just five minutes, passing under the bridge. Cross over the road at the pedestrian crossing and you'll see our shop front on the right.
Buses
Buses 17, 153 and 259 stop nearby.
Train
Kings Cross: Take the Piccadilly Line from Kings Cross direct to Holloway Road. The station is just two stops and five minutes from Kings Cross station.
Euston: Take the Northern Line to Kings Cross and change to Piccadilly Line.
Accessibility
If you require wheelchair access to our bookshop, this is through the Resource for London Building- for more information please give us a call on 0207 697 4200. If you require assistance getting into the building get in touch via phone or email and we'll be happy to help.
Click here for printable instructions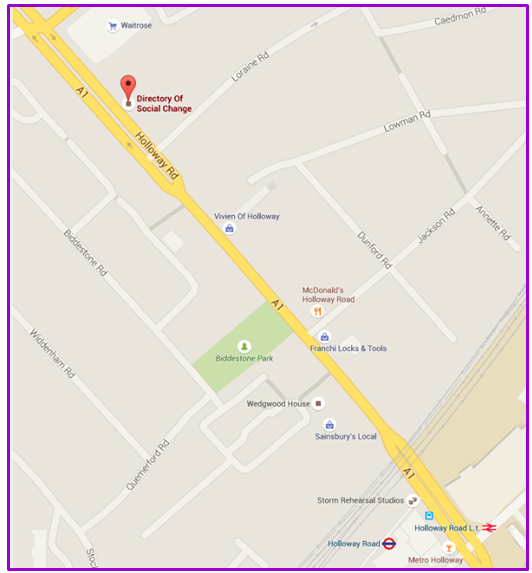 How to find the Liverpool office
Suite 103, 1 Old Hall Street, Liverpool L3 9HG   
By car
Take the left exit towards Old Hall Street from Leeds street, and follow the road until you reach building number 1.
By train
The closest station is Moorfields (Old Hall Street exit), situated right across the road from our building. Moorfields station is part of the Liverpool Underground network and is three stops from Lime Street mainline station.