50 years of fundraising: Putting a stamp on fundraising
The first in the series celebrating the 25th edition of The Directory of Grant Making Trusts.
To celebrate the 25th edition, and the 50th year in print of The Directory of Grant Making Trusts, we take a look back over the last 50 years of fundraising through the eyes of a range of fundraising experts.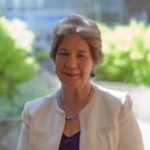 We're starting our reflections with Gill Raikes MBE, Chief Executive Royal Brompton and Harefield Hospitals and former Fundraising Director, The National Trust. Take a look at her thoughts on the past 50 years of fundraising:
I can reflect on 50 years of fundraising because my first experience of fundraising was at a very young age – when my father was on the fundraising committee for Enterprise Neptune – The National Trust's flagship campaign to save beautiful and threatened parts of the coastline of Britain. Then, my job was to lick the stamps which went on envelopes to ask people to support the appeal. Stamps now have adhesive backs, but there have been a great many other changes too.
We didn't call such network fundraising 'direct mail' in those days – we called it 'writing to friends'. Luckily for me, direct mail really reached its peak as I started fundraising in the late 1980s, and for the next two decades it was a pivotal and valuable fundraising method.
It is no longer a mainstay of fundraising, having been tarnished by overuse, and by commercial paper overload pushing everything from loans to pizzas.
Now fundraising is much more finely tuned to be about listening to what donors want and need.  The biggest and best change is that donors have the chance to get more engaged with the causes they support. This gives pleasure to both donor and fundraiser. It has inspired millions of people to embark on sponsored challenges, companies and employees to get involved in fundraising and families to set up their own charitable trust or foundation.
About Gill Raikes MBE
Gill has been the Chief Executive of Royal Brompton and Harefield Hospitals for over five years. This is a newly independent charity, though its sole aim is to raise funds to support these two remarkable specialist hospitals. Prior to this, Gill was the Fundraising Director at The National Trust for 28 years.
About The Directory of Grant Making Trusts 2018/19
Now celebrating its landmark 25th edition, the UK's best-selling guide to funding from grant-making charities is back.

The Directory of Grant Making Trusts 2018/19 offers the information you need to seek your charity's share of over £5 billion – the annual total awarded by the 2,000 funders featured in this edition. With data sourced directly from grant-making charities, each with the potential to give at least £40,000 per year, no charity – big or small – should be without it.