Funding for veterans: Scottish Veterans Residences
Scottish Veterans Residences research on trustfunding.org.uk, to fund a transitional residence for struggling veterans in Glasgow.
Moved by the sight of veterans sleeping rough on the streets of Edinburgh, Scottish Veterans Residences (SVR) was established in 1910 to provide accommodation and support to homeless ex-servicemen and women.  Focussing specifically on unemployment, homelessness and health issues, SVR find funding for veterans to combat unaffordable rent and aim to equip them with the support and transitional skills needed to build and sustain a life outside of the Armed Forces.
Bellrock Close in Glasgow
The charity carried out research tha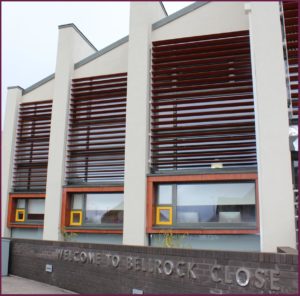 t linked the housing needs of veterans with underlying causes such as tackling financial insecurity, alcohol and drug dependency, rooflessness and access to mental health care. With expensive rent and waiting lists for social housing, SVR developed a set of 51 transitional flats in Glasgow named Bellrock Close, for veterans and former merchant mariners that opened in mid-2014. The tenancies in the supported accommodation limit duration of stay to 18 months to ensure a transition towards a permanent tenancy in various communities throughout Scotland. With a high standard of accommodation, individually tailored support programme and other facilities, each vulnerable veteran is guaranteed care, training and life skill coaching.
As a large scale project, Bellrock Close required additional funding on top of the charity's annual income. SVR needed a £7 million capital campaign to fund the residence, of which £2.7 million was generated trusts and grant makers where trustfunding.org.uk was used extensively.
Susie Hamilton, SVR Fundraising and Marketing Manager
"Trustfunding.org.uk is always my first point of call for funding. The search function is very useful as it can narrow searching geographically or by type of projector/ type of organisation. It's easy to use and very helpful!"
Top fundraising tip
It's all about how much effort you put in- more effort means more money!