Book included: Speed Read: Training Skills
Two day course
Get a fantastic ILM endorsement
If you're likely to have to train others – in knowledge or a skill – as part of your job, this course is for you.
You'll learn accepted theories on how people learn, how to plan training sessions, what information to use, how to get your information across, and how to do so in an interesting and engaging way.
Most importantly, you'll learn to train others with skill and confidence.
Who should sign up?
This optional endorsed training course is for anyone who would like to, or is likely to be asked to, train others in a charity sector environment.
It offers a confidence boost to anyone who may have to speak in public, make a presentation or lead meetings.
What will I get out of it?
You'll learn what makes a good training session, and how to avoid an awful one.
Discover the 'training cycle' theory for how good training goes and how people absorb information.
Learn the different learning styles of the people you're likely to train, and how to play to different people's strengths to keep sessions lively and engaging.
Pin down your training objectives and decide on the outcomes you're offering the trainees.
Learn dozens of training methods including: PowerPoints, group discussions, exercises, lectures, participatory discussions and presentations.
Work on your own self-confidence, including how to tackle pre-training nerves.
What will it cover?
How to write your objectives and outcomes
The Experiential Learning Cycle and what it means for your training event
The learning and training styles of delegates, and how to use them
Training methods you can use
Presentation skills and developing your self-confidence
Planning your content
What people said about this course
"An excellent course – I got real, on-the-spot experience of how to design and manage my own course with a chance to practise and get feedback from the trainer and other delegates. The trainer also took the time to help me individually. I would highly recommend it."

Lucy Muir-Smith
Get Endorsed
You have the option of gaining Institute of Leadership and Management (ILM) endorsement for this course. The ILM is a nationally recognised Awarding body who monitor the quality and the assessment procedures of the Endorsed Programmes.
To gain the endorsement you will need to complete some additional assignments and exercises. These are all based around course content and you can contact the Assessor for any additional support you need. Once you have completed the assessments and it has been marked and passed, you will receive an ILM Endorsed certificate.
If you think the endorsement option is for you simply click on 'Add Institute of Leadership and Management (ILM) Certification fee' under the Booking Options below and it will add the additional £140 fee to your booking and you will be on board to do the endorsement.
If you have any questions or want any more information on the ILM Endorsed option, just give us a call on 0207 697 4200.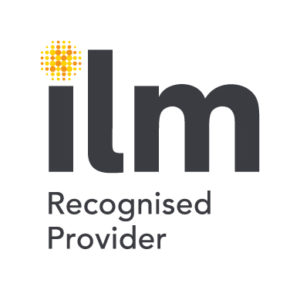 Trainer: Cathy Shimmin