What is it?
For your organisation to achieve its aims you need to understand your members and beneficiaries. However, we know it can be difficult to keep track of the needs of a large and diverse group of individuals. Membership surveys are a fantastic way to get direct feedback that will have a huge impact on the way you do things.  
How can it help you?
Membership surveys can provide valuable insights into service provision, organisational strategy or internal communication- there is much to gain from getting a better understanding of those you interact with.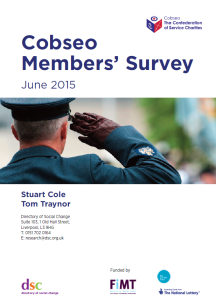 Cobseo Members Survey
In 2015, DSC Research partnered with Cobseo (The Confederation of Service Charities) to undertake and produce their first 'Members' Survey'. The survey utilized a mixed methods, qualitative and quantitative data approach to create research allowing Cobseo to understand the views and experience of its members.
DSC Research assisted with designing the survey questions and management of the data gathering process. We then undertook a comprehensive analysis of the data and produced a full professionally printed report, detailing the outcomes of the survey.