Companies, Strategy and planning, Fundraising
Corporates are from Mars, Charities are from Venus
There's no better way to learn how to strike great corporate-charity relationships than to see how others have done it successfully.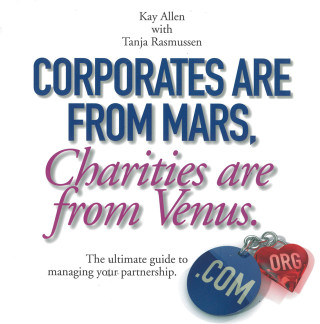 In this no-nonsense guide, you'll learn how 10 partnerships were put together, the key ingredients that made them successful, and what both sides got out of working together.
Benefit from the author's easy 10-step process to getting it right, based on good planning and honest communication.
Who should buy this book?
This guide is for senior fundraisers, planners, chief executives and trustees overseeing the strategic direction of their organisation's relationship with corporates.
It's also great reading for more junior fundraising staff looking to learn what's possible, and how to go about getting started.
What does it cover?
The authors have witnessed the benefits of effective partnerships, but have also seen the challenges and missed opportunities.
Make corporate relationships profitable and create wider benefits including better public recognition.
Create a systematic approach, rather than taking shots in the dark.
Learn best practice in corporate fundraising and collaboration.
Make sure your whole approach is up-to-date and effective.
'This excellent best practice guide welcomes a new spirit of collaborations between business and the voluntary sector.' 

Nick Hurd MP, Minister for Civil Society

'This book provides a well-researched, easily accessible and practical guide to those in the corporate world and the charity sector.' 

Baroness Greengross of Notting Hill

'A compelling message in a clever way that demonstrates the social and economic value of charity partnerships.' 

Philip N Green, Prime Minister's Adviser on corporate responsibility
About the authors
Kay Allen OBE
Kay a high profile ambassador for corporate social responsibility and diversity.
She is the founding director of Really Useful Stuff which aims to grow the UK's largest marketplace for independent living products. Additionally, she is the founding director of Trading for Good a Number 10 supported campaign looking at how businesses can help local communities, driving greater social responsibility.
Kay's own consultancy Diverse Advice Kay provides CSR advice to a number of high profile businesses including being appointed as Special Advisor to the Fujitsu CSR Board and British Land CR Board. Previously Kay's career included Royal Mail Group, BSkyB and B&Q, her work has focused on Equality and Social Action. Previously Kay has served as a Commissioner on both the Disability Rights Commission and the Equality and Human Rights Commission. She also served as a Non-Executive Director of the Pension and Disability Carers Service.
Kay is co-author of Corporates are from Mars, Charities are from Venus
Tanja Rasmussen
Tanja is a specialist in strategy development and corporate management.