Focus On: Armed Forces Charities Housing Provision
New research published by The Directory of Social Change (DSC), funded by Forces in Mind Trust (FiMT), finds that 78 armed forces charities deliver housing support to at least 11,600 beneficiaries annually, with charities spending at least £40 million on housing provision in the previous year.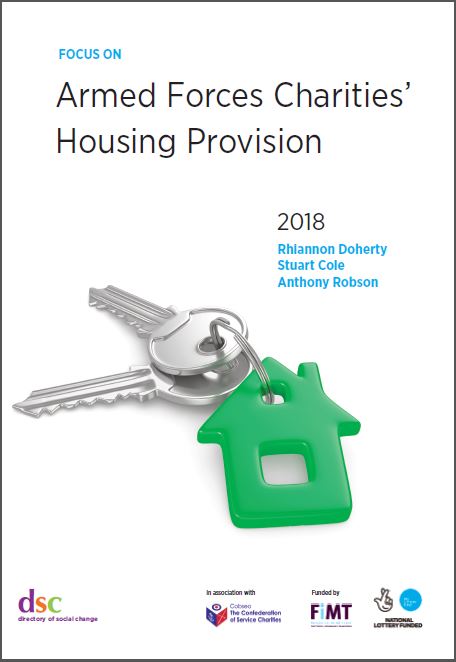 Charities provide over 10,000 beds across the UK
47 charities provide accommodation services, collectively providing at least 4,700 properties across the UK, which have a total capacity to house at least 10,200 people.
Charities provided a wide range of accommodation types, which responded to different housing needs. Adapted housing and subsidised rental accommodation were the most common types of support, delivered by almost three-fifths of charities which own or manage accommodation.
Almost three-quarters of total beds are based in England, which may make it difficult for people in other regions to access housing. Further research exploring armed forces population density and regional housing policies is needed to investigate whether there is a shortfall of accommodation outside of London.
 Services extend beyond bricks and mortar
Support services play an important role in helping beneficiaries to secure and maintain suitable housing. Common support services included signposting and help with housing searches/applications. DSC found that almost half of the charities delivering housing support offered grants, the most common of which were awarded for home repairs and maintenance, and deposit payments.
A highly collaborative and responsive sector
DSC found small pockets of charities delivering highly directed services, including, housing for disabled or injured beneficiaries, sheltered living for elderly beneficiaries, and homeless shelters.
The sector adopted an impressively coordinated and co-operative approach to service delivery. 92% of survey respondents experienced benefits of partnership and rates of collaboration with fellow forces charities was high. Yet, partnerships with mainstream charities, housing associations and the MOD were less common.
Initiatives such as the award winning Cobseo Housing Cluster, and the Veterans Housing Advice Office, serve as great examples of cross-sector collaboration, these models could be more widely adopted more widely adopted and engaged with by the wider sector.
DSC researcher and lead author, Rhiannon Doherty says: 'Forces charities play a vital role in helping Serving personnel, veterans and their families to secure suitable housing. This report maps the diverse range of housing services delivered by forces charities, revealing a small sub-sector, which adopts a highly responsive, coordinated and collaborative approach to housing provision.'
 James Richardson and Ed Tytherleigh, Co-Chairs, Cobseo Housing Cluster: 'On behalf of the Cluster, we are delighted to endorse and commend this report for anyone who wants to help homeless veterans. We are very happy to support the recommendations made by the report and we take pride in leading on ever-deeper collaboration between Veterans' housing providers.' [from the Foreword]
 Air Vice-Marshal Ray Lock CBE, Chief Executive of the Forces in Mind Trust says: 'This latest in the series of Focus On reports provides an independent and thorough analysis of Armed Forces charities providing housing support.  It is a highly credible piece of research, and a 'must read' for anyone setting policy or delivering services around housing, or indeed anyone with an interest in the positive transition of ex-Service personnel into civilian life.'
To download the free report and infographics, visit armedforcescharities.org.uk/housing
To find out more about DSC's armed forces research and search our extensive database of armed forces charities visit www.armedforcescharities.org.uk 
Follow us on Twitter @forcescharities