Getting in touch
Getting in touch with us is really easy. Whether you have specific questions about any of our products and services, or you just want to chat about the different ways we might be able to help you, your staff, volunteers, trustees or your wider organisation, just email us at cs@dsc.org.uk
Our fantastic Customer Service staff will then either help you straight away, or find the perfect person to help you and they'll get in touch.
So whether you have a question about a book, want to talk about how our in-house training or research services could help you, or you have an idea about how we might be able to work together to reach and help more people, get in touch and we'll do the rest!
Or if you'd like to speak to one of our friendly CS team members, the number is 020 4526 5995.
Postal address
All of our staff work remotely. Mail delivered to our office in Liverpool is collected and checked regularly, but if you require an urgent response, please email.
Suite 103, 1 Old Hall Street, Liverpool L3 9HG
Email: cs@dsc.org.uk (to ensure our emails get through to you, please ensure this email address is in your address book)
How to find the Liverpool office
Suite 103, 1 Old Hall Street, Liverpool L3 9HG   
By car
Take the left exit towards Old Hall Street from Leeds street, and follow the road until you reach building number 1.
By train
The closest station is Moorfields (Old Hall Street exit), situated right across the road from our building. Moorfields station is part of the Liverpool Underground network and is three stops from Lime Street mainline station.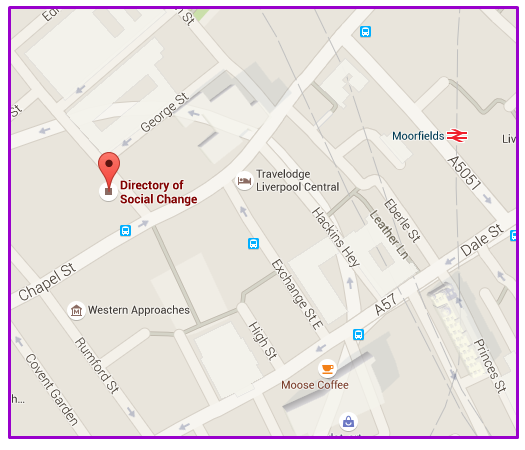 If you have a complaint
If you'd like to log a complaint, please click here to find out how to proceed.