Focus On: Armed Forces Charities' Mental Health Provision
Illuminating Britain's armed forces charity sector through unique evidence, extensive knowledge and insightful analysis.
Forces In Mind Trust and the Directory of Social Change present Focus On: Armed Forces Charities' Mental Health Provision.
This report follows on from DSC's Sector Insight reports on UK armed forces charities, a series which DSC has been publishing since 2014. Building on these broader studies, the Focus On series exists to provide a more specific analysis of the work of armed forces charities across the UK — in this case, those who are making provision for mental health support.
Illuminating Britain's armed forces charity sector
This report provides an overview of the mental health provision made by armed forces charities registered across the UK, focusing on:
Categorisation of 'Primary' and 'Secondary' providers

Insights into expenditure on mental health provision

Collaboration, evaluation and standards of practice

Differences in clinical and non-clinical service delivery

Insight into charities' standards of practice

Analysis of topics of mental health support

Conclusions and recommendations
This is a unique resource for charities, government, policymakers and researchers to understand what armed forces charities deliver in terms of their mental health provision. This subject area has been thoroughly explored to provide a body of evidence and insightful analysis which informs of policy, practice and research.
Key findings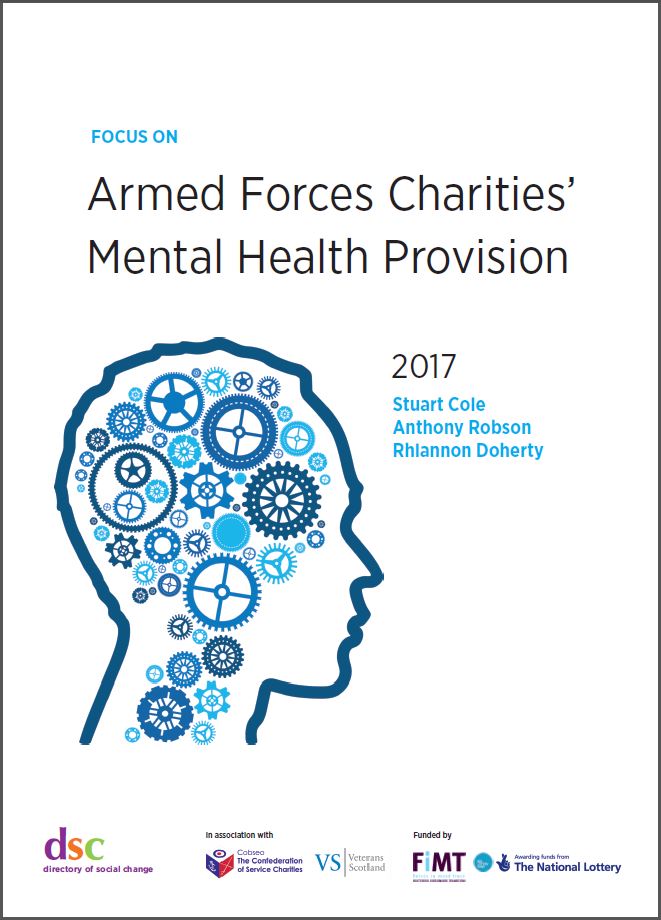 76 charities make provision for mental health which represents 7% of all armed forces charities

91% of charities support veterans, 71% support serving personnel and their spouses/partners respectively

75% of charities provide treatment for PTSD, 57%  for depression and anxiety and 43% for substance misuse

Counselling is the most common method of treatment, offered by 45% of charities

Charities help an estimated 7,000 to 10,000 beneficiaries per year

Charities spend over £28million providing mental health services per year

19% of charities provide clinical services
Ray Lock CBE, Chief Executive FiMT says:
'It is only right that we invest in credible, independent evidence, such as this report, so that our efforts and resources are deployed where they are most needed, and where they can have the greatest positive effect.' 
Debra Allcock Tyler, Chief Executive Directory of Social Change says:
'We are very fortunate to have so many brilliant forces charities in the UK, and it is vital that we continue to illuminate and celebrate their work.'   
To download the free report and infographics click here.           
To find out more about DSC's armed forces research and search our extensive database of armed forces charities visit www.armedforcescharities.org.uk 
Follow us on Twitter @forcescharities