NEW RESEARCH - Focus On: Armed Forces Charities in the Criminal Justice System
ONLY TWO PERCENT OF ARMED FORCES CHARITIES SUPPORT VETERANS IN THE CRIMINAL JUSTICE SYSTEM
New report calls for better identification of offenders to help charities direct their services to veterans in need, and their families New research published today (5 September 2019) by the Directory of Social Change, shows that just two percent of UK Armed Forces charities deliver support for veterans who have come into contact with the Criminal Justice System.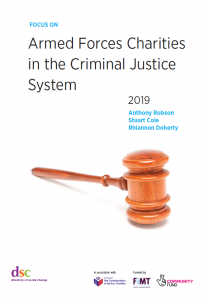 The report titled Focus On: Armed Forces Charities in the Criminal Justice System, funded by the Forces in Mind Trust (FiMT) shows that just 31 of the UK's 1,888 Armed Forces charities provide criminal justice related support to 3,200 veterans each year. This is significantly fewer than the number of Armed Forces charities providing support in other areas such as physical health where 121 charities provide support, education and employment (78), housing (78), and mental health (76). The evidence from the report also shows that the 3,200 veterans represent those accessing services, rather than those in need, which is a potentially far higher number.
The findings reveal that small cohorts of Armed Forces charities specialise in support at different stages of the Criminal Justice System, for example when veterans are in police custody, during their time in prison, and following their release. Notably, just eight charities help individuals in prison. The most common support that charities provide for those who have come into contact with the Criminal Justice System is for education and employment, delivered by just over half of the charities. The research also finds that around a fifth (39%) of Armed Forces charities provide support to family members of veterans who have been in the Criminal Justice System, with the most common being help with finances, debt support, education and employment and mental health.
The Focus On report highlights initiatives such as the Cobseo Veterans and Criminal Justice System Cluster and Project Nova as case studies of cross-sector collaboration which could be more widely adopted and emulated across the sector.
The report calls for greater partnerships between charities that support veterans in the Criminal Justice System and criminal justice support organisations, such as social services and Liaison and Diversion services. It also highlights the need to identify the number of ex-Service personnel in various stages of the Criminal Justice System in order to help charities better direct their services to these individuals and their families.
Commenting on the launch of the report today, DSC Researcher and lead author, Anthony Robson said: "Armed Forces charities play an important role in supporting veterans and their families who have come into contact with the Criminal Justice System. This report not only highlights the services provided to veterans across the different stages of the Criminal Justice System, but importantly calls for the need to better direct this provision of services by enhancing cross-sector collaboration between criminal justice support organisations and Forces charities."
Air Vice-Marshal Ray Lock CBE, Chief Executive, Forces in Mind Trust said: "For anyone claiming to hold dear the interests of the Armed Forces community, be they politician, official, media or charity, the DSC's Focus On series is a must read.  This particular report provides the evidence base and hence understanding of the Criminal Justice System, upon which all good policy decisions should be made."
To download the free report and infographics,                                                                                                                                                                                                                        visit www.armedforcescharities.org.uk/criminaljustice