Company Giving Almanac 2013
Overview and analysis of corporate funding in the UK.
This research draws extensively on data from the top company givers, including a wide range of national and international companies, to provide a comprehensive picture of UK company giving. Case studies are provided so that other company funders and potential funders can learn from their peers' successes and failures.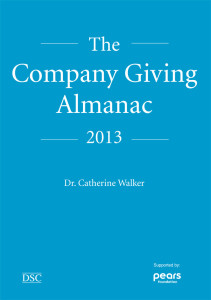 The research includes: a comprehensive overview of company giving in the UK; the geographical distribution of company giving; which causes companies give to and which they don't; an industry breakdown of giving; an in-depth review of the financial services sector; an analysis of UK corporate trusts and foundations.
Essential for company funders, charities seeking corporate funding and researchers, academics and individuals who are interested in UK corporate giving, its findings will be of particular relevance to charity sector leaders and influencers.