Brexit Bake-off: Javid's Spotted Dick vs Johnson and Mogg's Eton Mess
Spare a thought for our new Chancellor of the Exchequer, Sajid Javid MP. Having served in the Treasury for years under previous governments, over the summer he realised what must have been a lifelong ambition when Prime Minister Boris Johnson appointed him to the second-most powerful position in government.
As controller of the country's purse strings, we learned only in late August that Javid would present an interim 'Spending Review' prior to Parliament being dismissed (prorogued) until mid-October. We should have been having this exercise throughout 2019, to set the government spending menu for years into the future. But as with so much else, Brexit devoured those plans – meaning government departments, agencies and local councils have had little certainty about their finances beyond 2020. The interim review was billed as stemming the financial hunger of austerity and setting the table for a potential General Election in the coming months.
A right old Eton(ian) Mess
And then, on the eve of Javid's opening day, the new PM proceeded to not just lose his new Government's wafer-thin majority on just his second day in front of the Commons, but to comprehensively flambé the whole kitchen with a flamethrower by removing the whip from 21 Tory MPs (among them two previous Chancellors, a host of ex-Ministers, and Winston Churchill's grandson).
The reason? A cross-party coalition of MPs succeeded in gaining leverage over the new Government by taking control of business in the House and debating a bill that seeks to rule out a 'no-deal' Brexit scenario. 21 Tories voted against the government, and were summarily expelled from the party. The sight of Jacob Rees-Mogg MP, now Leader of the House – a man who voted against Theresa May's government repeatedly – sprawled on the front bench as if he'd had too many bowls full was an irony not lost on many.
Against the current constitutional dog's breakfast it's important to remember that increasingly, government's big financial announcements seem more like a mouthful of cotton floss – lots of spun sugar which soon dissolves into not very much. Would Javid's pudding actually 'end austerity' or even contain any succulent morsels for charities?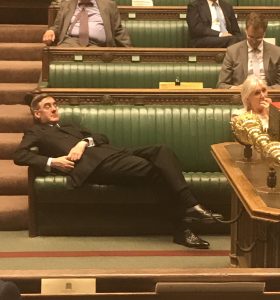 The Spotted Dick
After he got through a long-winded introductory party-political wheeze, the Chancellor did announce some chunky bits that charities will want to chew over, although there was nothing particularly strategic or ground-breaking.
He claimed that next year would see a rise of over £13 billion in spending, with most of the measures focussed on police, health and schools, as part of his party's core appeal to the electorate. Some of the highlights were:
£750m to recruit 20,000 new police officers by 2023, with 2000 to be recruited by March 2020 (which sounds like a potential vote-winner)
£2.5bn to create another 10,000 prison places (which might help improve conditions but could also signal a move away from prevention and rehabilitation)
A £4.6bn real terms increase in school spending by 2023 (education was the sole beneficiary of a longer-term financial settlement beyond next year)
An additional £1bn in social care funding to assist the NHS and local councils (and a consultation on a 2% Adult Social Care 'precept' to help councils access another £0.5bn – essentially another financial sticking plaster while they play for time)
A commitment that no government department's budget would be cut in this review (but we don't know about the future beyond 2021)
£1.2bn for Scotland, £600m for Wales and £400m for Northern Ireland (again, sounds nice, but surely the devolved administrations will have a view)
Whether any of these decisions will satisfy the respective level of need seems unlikely – especially in the case of social care (Boris Johnson made vague statements in the summer about fixing the system but further details haven't emerged). Even if budgets are increased with inflation or above, this doesn't necessarily mean spending will keep up with rising demand on services – which charities see happening every day. Also, if there is an election soon which produces a different government, it could all be just so much wasted paper, or at best a stop-gap plan.
Some chewy morsels
There were a few specific announcements which people in charity sector will want to pay particular attention to:
The Charity Commission budget will increase from £24.9m this year to £27.3m in 2020-21, an increase of £2.4m and well above inflation. (although short term, this is good news – DSC has been campaigning for an increase for years) [page 25].
£54m to help councils reduce homelessness and rough sleeping in 2020-21. (The Chancellor claims this represents a real-terms increase of 13%) [page 16].
£700m for Special Educational Needs education as part of the schools funding increase [page 2].
A consultation on proposals for a 'Youth Investment Fund' to help maintain and refurbish youth centres, to be led by the Department for Digital, Culture, Media and Sport (Javid mentioned this in his speech but there seems to be no reference in the Spending Review document)
An additional £30m to accelerate progress on developing decarbonisation schemes that will help to move the UK towards its Net Zero greenhouse gas emissions target by 2050. [page 19]
Left out of the recipe
There were some obvious missing ingredients in the Chancellor's pudding in addition to the lack of any policy movement on social care. In particular, two issues which have most come to define the experience of austerity over the past ten years: benefits cuts and slashed local government budgets. On both, Javid offered a kind of fudgy obfuscation.
The Department for Work and Pensions received a sprinkle of funding to address the effect of benefits policy changes like Universal Credit, which have caused real hardship (as shown in the rise in food banks). Still, there appears to be no further change to the benefits cuts rolled out over recent years. [page 21]
Steam clouds swirling around Local Government finance. The Chancellor claims that central funding for councils will increase by £2.5bn or 12.4% in 2020; however these calculations appear to include policy changes to business rates receipts and the proposed social care precept. Although it's a move in the right direction, it's doubtful that councils will find this sufficient given the cuts they have sustained over the last decade.
All in all, considering the chaos in the rest of the kitchen it wasn't the worst announcement from a Chancellor we've seen recently (which isn't saying much). But given the increasing possibly of a snap General Election and a new government, we could be back to the chopping board soon….
You can find the full details of Spending Review 2019 here:
https://www.gov.uk/government/publications/spending-round-2019-document
Also, don't miss what DSC and other leading charities called for in advance of the Chancellor's statement here: