Garment crowdfunding for your charity
Created with the aim of removing the upfront costs and admin associated with the sale and distribution of custom printed garments Print Social has emerged as a unique crowdfunding platform helping charities and individuals raise money and awareness selling merchandise.
The premise of Print Social is pretty simple – you upload your design, set your retail price and the duration of your pre-sale period which can be anything up to 30 days. Like other popular crowdfunding platforms you use this time to secure your pledges. Unlike these platforms however each pledge comes with a garment reward which is printed and shipped out for you by Print Social within 7 days of your pre-sale period ending.
One of the charities that has enjoyed fundraising success through the Print Social is The Flying Seagull Project. Back in February they launched their #WearTheLove campaign to coincide with Valentine's Day and decided to release a limited edition t-shirt to celebrate the project.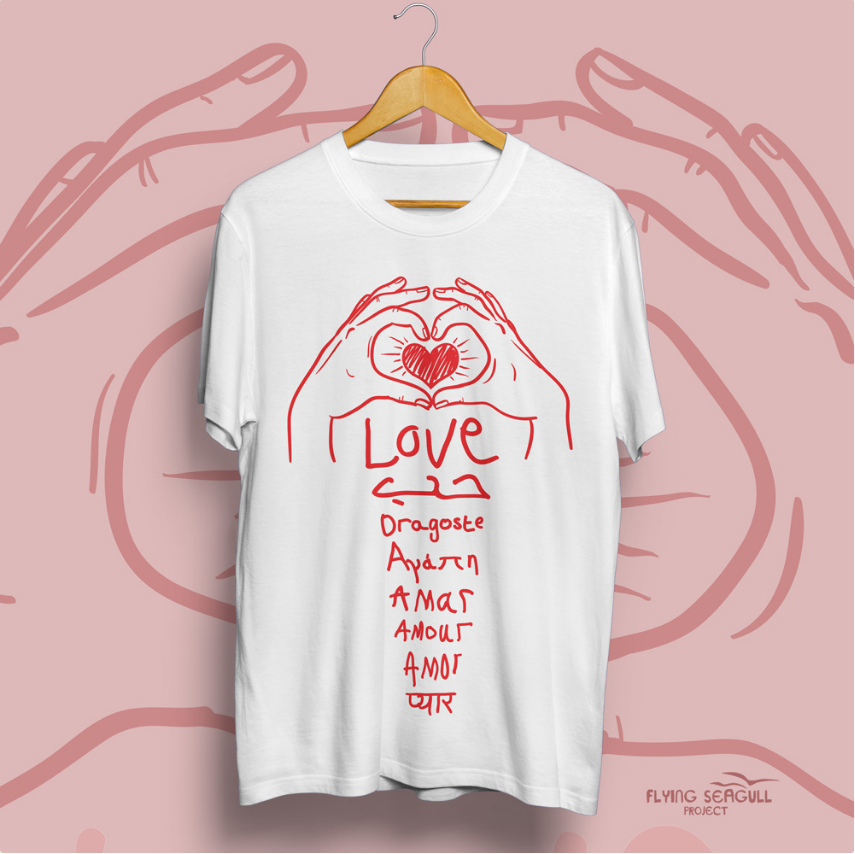 Print Social was born out of 3rd Rail, an existing leading screen printing studio with a large network of illustrators and and artists at their disposal as well as in-house graphic designers. This means we were not only in a position to offer the FSP a complimentary t-shirt design service but could also easily print additional t-shirts prior to the campaign launching which were gifted to the charity's celebrity patrons and used to advertise the product online.
Faye Toner, head of Fundraising and Operations was in charge of the project: "We haven't adopted this method before but would certainly do it again. The main advantages are no initial financial outlays. The tool on the dashboard for tracking how many sales had been made was great."
By the time their 30 day pre-sale period had elapsed the FSP had managed to sell 47 t-shirts and simultaneously raise over £500. We spent the next 5 days processing, screen printing and shipping out orders leaving the charity with more time to focus on continuing their great work.
Gavin Lucas, owner of pop up restaurants Burgerac's Burgershack and Sonic Sandwich recently used Print Social to fundraise for Action Against Hunger:
"I've wanted to find a way to support Action Against Hunger but didn't really know how. The recent discovery that Print Social offer a service whereby people with a design can post them online and all over social media and pre-buy made me think it could be good way to raise money for a good cause."
Through careful planning and preparation prior to the campaign launching Gavin was able to generate considerable interest in the product which was viewed over 1500 times. As well as being featured in publications such as Creative Review and Cool Hunting he also asked influencers including Rob Flowers (the illustrator responsible for the design) to promote his product on social media in exchange for free t-shirts.
Gavin also enlisted the help of Jenny Clarke, the Senior Community Fundraising Officer at ACF-UK. "We were really excited to hear about [the campaign] and loved the look of the t-shirt! It's always great to hear from new supporters and to find out the new and innovative ways that people are choosing to fundraise for Action Against Hunger's work. We promoted the campaign through our Twitter account and a blog post on our website so that people already engaged with Action Against Hunger and the work that we do could easily find out about a new way that they can support us. We hadn't used Print Social before but it seems like it's been a real success. Being able to pre-sell items without having to make them first is a great way to help fundraiser's plan and deliver their projects without worrying about lots of up front costs."
In two weeks Gavin was able to raise over £550 for Action Against Hunger whilst simultaneously kitting out supporters in a design closely associated to his brand.
For more information about how your charity can crowdfund selling custom printed merchandise through Print Social please visit the website or send an email.