New grant standards – a starting point not an end point
On 2 December the Cabinet Office released a set of Grant Standards in the wake of the Kids Company collapse and the ongoing battles about clauses in government grant agreements designed to stop 'political lobbying' by grant recipients, referred to as 'anti-advocacy' clauses.
As part of the new standards the previous anti-advocacy clauses, put on hold last May following strong opposition from charities and others, have been reworked. The new version isn't perfect but sends an important message – that it is legitimate for grant-funded charities to influence government and Parliament. This is a big achievement which NCVO and others deserve much credit for. There may be some way to go however before this makes its way into the genuine belief or practice of central and local government commissioners. Charities will need to keep making this argument, especially the argument that providing feedback and policy expertise as part of the grant 'dialogue' is in the state's best interests).
In terms of the wider grant-making standards, grants are disappearing and we need commissioners at all levels to be able to confidently engage and enable the voluntary sector through grants. In principle, a set of standards across government is a good idea, and shows that central government still considers grant funding as an important option when working with charities.
Ten Grant Standards
The new standards comprise ten categories – many of them consolidate existing practice but there are some tweaks and new elements. As with any policy initiative, the success depends on how it's implemented. For example, one new aspect involves 'mandatory training for grant-makers in grant management best practice'. Sounds great, but it all depends on what the training covers and whether it's any good! If it winds up reinforcing processes and behaviours that make grants less effective (like requiring reams of monitoring information that is never used) it won't be good training.
So DSC is treating the standards as a starting point, not an end point. There is much more to do to create effective grant agreements and systems, which is ultimately what policymakers, taxpayers, charities and most importantly beneficiaries need. The various processes and standards aren't an end in themselves; they should all be pushing things towards better outcomes.
 Conflict with principles of good grant making and best practice
At this point it's worth noting that as drafted a number of the standards conflict with best practice in other policy documents, and are likely to inhibit effective grant-making to smaller charities in particular:
Standard 6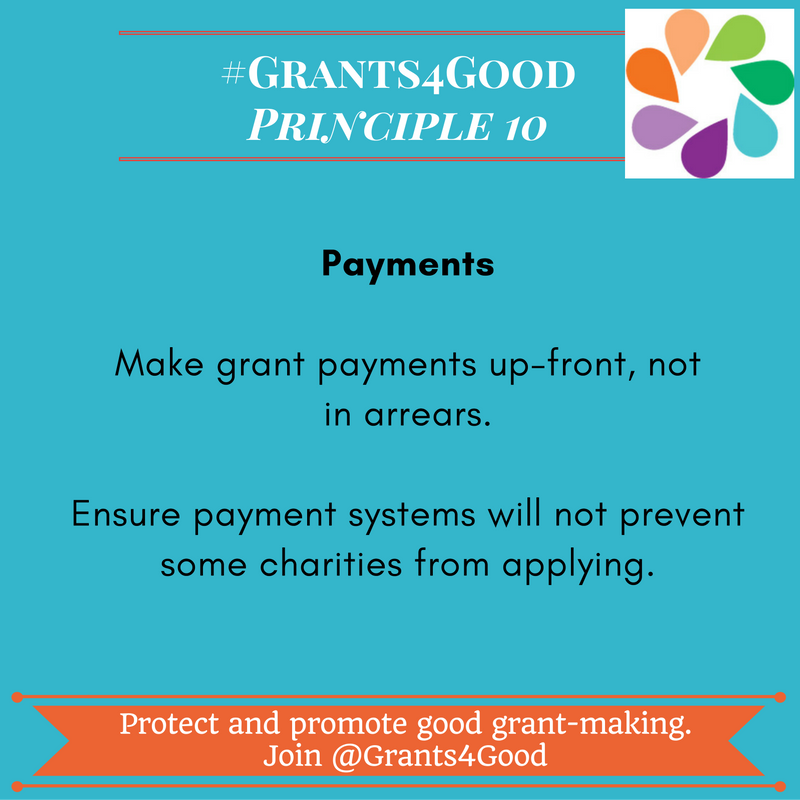 Standard 6 says that it is 'expected that grant funding payment models will reflect need and avoid paying significant portions of funding up-front'. Payment in arrears is rarely workable for smaller charities because they may not have sufficient reserves or capital to get projects running in advance. Allowing payment up front has been a long-running principle in the Compact, and also features in the NAO's Successful Commissioning Toolkit, which talks about how organisations may need 'up-front payments to cover costs the provider will need to deliver the outcomes' and 'Payment in advance of some, or all, of the total agreed payment…to enable a provider without sufficient cash, but with the required expertise, to start and deliver a programme.'
Standard 9
Standard 9 says annual reviews will be required and will result in 'a decision to continue, discontinue or amend funding'. Annual reviews are not unusual, but it's about what they're for. The language implies that long term grant agreements are undesirable when evidence suggests the stability created by longer term funding improves outcomes. Uncertainty about the continuation of funding builds inefficiency into the process, because charities can't plan ahead and may have to delay important decisions (like recruiting staff, or making them redundant). Good grant-giving involves regular contact between the grant-maker and grantee to monitor performance and change plans to adapt to new circumstances. This could involve annual reviews or other regular systems of communication about progress and project changes.
These new standards have been developed with some sector input but there has been no formal consultation and we suspect that civil servants and officials haven't reached out directly to small charities and charitable grant-makers. If that's you, they need to hear your views on these new standards.
DSC will continue working to promote and improve grant-making, on its own and via the Grants for Good campaign. Together with our partners we've been pushing our Principles of Good Grant-making to central and local government – why not download it and send to any of your current or past government grant administrators? Plus don't miss our Grants for Good thunderclap on Local Charities Day!