Tuesday 25 June 2019, London
How many years? How many conferences? How many more 20 somethings in tortoiseshell glasses will stand up to tell you how you're doing your job wrong?
So that you can start taking action, we'll tell you how it is and grapple with the challenges. We'll talk: finding the cash, digital on a budget, learning from digital disasters, understanding the risks and separating facts from fearmongering. Action is what this event is about.
We've invited leaders to share honestly and openly their experiences and advice to support your charity in moving forward with digital.
This event is for the do-ers, this is for the people who want to make it happen.
Plenary
Panel facilitated by Matt Haworth, Co-Founder, Reason Digital
Toni Simpson, Head of Digital Channels and Development, Marie Curie
Bob Barbour, Director of Digital, Marketing & Communications, vInspired
Matt James, Director of Communications & Marketing, Wellchild
Sam Sparrow, Head of Digital Practice, CAST
Sessions
For one day, we'll focus on the following themes:
Big impact against the odds
Anti-social media – How to go guerilla on social media
Honest hour – Digital disasters and what we learnt
Being smart with digital
Cyber security & GDPR – Separating the facts from the fearmongering
Pioneering digital
Building leadership before building tech
Preparing yourself for the best digital funding bid application
Changemakers – Behaviours to inspire a change in culture
Service users building charities in a digital world
Looking to the future
How the civil society strategy can change your digital strategy
Charity seeking digital innovator with GSOH
Future tech trends
Ask a digital native what makes them care
Tickets
Band A: £199 Charities with a turnover up to £500,000
Band B: £299 Charities with a turnover over £500,000
Band C: £399 Statutory & commercial
Contact us for exhibition or sponsorship enquiries or general enquiries.
Please note, registration is from 9am, with the welcome introduction at 10am.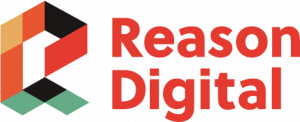 In partnership with Reason Digital
Reason Digital are one of the leading organisations in doing good with digital and an award-winning social enterprise. They work with charities – such as Age UK, Cancer Research UK, The Trussell Trust and others to find new ways to use digital to deliver services, communicate messages and generate more support.