Early Bird rates extended until Friday 26 May!
* Know which Labs you want to book? Click here now or if you would like to speak to someone about the event or have any questions, give us a call on 020 7697 4200.
2017…
We've refreshed and packed our programme with brand new content to address the latest trends and challenges you face.
Just take a look at the full Charityfair programme here, with full details on each of the 18 Learning Labs (covering fundraising, governance, leadership & management and marketing).
If you've read the printed copy of the brochure, please note that Maximising Volunteer Impact is now at 13:15 and not 09:45.
The Early Bird gets the day rate
Early Bird rates are live now until Friday 26 May, so swoop in and get a:
1 day rate for £130 (normal rate £150)
2 day rate for £260 (normal rate £285)
After 26 May, normal rates listed above and in the brochure PDF above will apply.
Take a look at some of the experts speakers we have lined up:

Learning Labs – what are they?
90 minute training includes:
60 minute seminar delivered by sector experts
15 minute group work and discussion time
15 minute Q&A session – ask direct questions to the trainer and guest speaker
Just £55 per Lab
Inspirational Talks
Bernie Hollywood, OBE
Day one Inspirational Talk at 11:30 – Let's collaborate…connecting charities with businesses
More charities are looking to corporate partners to help diversify their funding.
However, businesses have much more to offer than just financial input – including time, skills and commitment of employees. We'll explore 6 ways to help make that connection: Think local and informal, get talking, find a good match, make use of your networks, sell yourself and weigh it up.
Day two Inspirational Talk at 11:15
Speaker and topic details coming soon.
Check back for further info on this exciting talk.
Julie Bentley, CEO, Girlguiding
Day two closing Inspirational Talk at 16:30 – Women and Leadership
Julie Bentley will consider how well the UK is doing to support women in leadership roles. She will share some personal reflections and tips and will talk about the work Girlguiding does to empower the next generation of female leaders.
Some bits to help you
Looking for the Charityfair booking form? It is really easy to book online, but we know some of you like things old school – so the booking form is here.
Check out full Learning Lab descriptions and event programme here in the downloadable brochure.
If you have any questions about Charityfair, please give one of our Customer Service team a ring on 0207 697 4200 – we'll be happy to help. Or, alternatively, ping us an email here.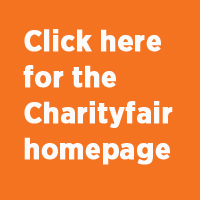 Booking your Learning Labs – Early Bird rates on 1 day & 2 day rates are set until Friday 26 May!
Learning Labs are £55
Day Rate is £130 (Early Bird rate), 2 Day Rate is £260 (Early Bird rate). Lunch is included on day rates and is an optional £7.50 when choosing individual labs.
A day rate consists of 3 learning labs, at different time slots, and lunch
1 and 2 day rates can be used by 1 delegate only
After 26 May, a Day Rate will be £150 and a 2-day rate will be £285.
Media Partner: