Funds Online Free Trial
Free 7-day Funds Online trial

Welcome to Funds Online, the online funding database from the Directory of Social Change (DSC) .
Funds Online will help you to discover funding opportunities suited to your organisation's needs so you can plan ahead for the rest of 2021. With Funds Online you can access 8,000 funders giving over £8 billion, all at the click of a button.
We're a charity ourselves, and we've been researching and publishing information on funders for over 40 years, so we know exactly what you need from a funding tool.
Plus, every penny we make from subscriptions to Funds Online doesn't just enable us to keep the site running, it also supports all of our other work, helping tens of thousands of charities and other voluntary sector organisations just like you!
Sign up now for a free 7-day trial* – the ultimate way to discover how Funds Online will work for your charity.
Interactive User Dashboard
The dashboard allows tracking of all of your activity, including applications, new funding opportunities and saved searches and funders.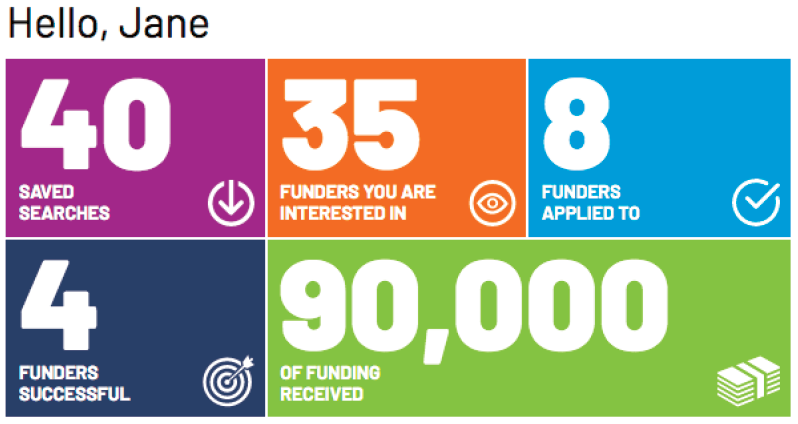 Fine-Tuned results
If your initial search produces a lot of results, refine them further by type of funding, beneficiaries/personal circumstances and more.
Intuitive Search Function
Not only is it really fast, its functionality boasts an intelligent and intuitive process. Locating your perfect funder match is only a few clicks away.
Team Focused Usability
Set up a multi-user account to enable a team of users to access the site. This function enables you to monitor activity across all users.
About your free trial
Registering for your free trial is easy. Simply add the free trial to your basket below with the "Book your place" button below, and checkout. Please note we will use the email address supplied on the form to check your eligibility and give access to the subscription.
You will then receive an email from us to confirm you've registered for a free trial.
This will be followed up on the 2nd March with a further email which will include login details, an overview of the features and benefits of the site and key tips on how to make the most of your trial.
Your free trial will be active from 3rd – 10th March, giving you plenty of time to check out how Funds Online can work for you
Once the trial is over, we will contact you again with information on how to subscribe.
Terms and conditions
This offer is only available to existing Funding Central subscribers as of the 1st February and is limited to one free trial per organisation.
The offer is not transferrable to another organisation.
Access to the free trial is strictly limited to the week of 3rd – 10th March. The trial must be taken up during these dates as no access will be permitted after the 10th March.
The offer is open to existing Funds Online customers who are also registered with Funding Central.
All other Terms and Conditions relating to Funds Online apply.