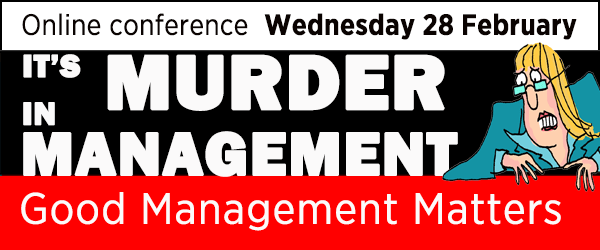 Welcome to our new online conference – It's Murder in Management: Good Management Matters on Wednesday 28 February 2024
Managers are often the most under-appreciated but critical members of the leadership of an organisation. They have to juggle the demands of the CEO, Board and senior leaders with the needs and challenges of their teams. They have to balance leading their team whilst also remaining sufficiently independent so that they can manage performance effectively.
This conference will look at the key areas you should be thinking about and is a mix of panel discussions, keynotes and plenty of opportunity to network with fellow attendees. You will hear from a range of speakers on key areas that managers are dealing with including: leading your team; understanding the money; inspiring and engaging people, dealing with differences and keeping yourself and your team well.
Who should attend?
This conference is critical for anyone in a middle or high-level management roles in any size or type of charity.
What is included in the price?
Attendance to the conference, keynote sessions, panel discussions, session talks and networking sessions.
Digital copy of Debra Allcock Tyler's book, It's Murder in Management
Access to all presentations and handouts
Certificate of attendance for CPD hours
Agenda – Exciting speaker announcements coming soon
09.30 – 09.35:  Welcome – Join us for introductions, housekeeping rules and some audience polls to get started.
09.35 – 10.15:  Keynote: My life as a manager – Your speaker will talk about the challenges they have faced as a manager, their mistakes, successes, and how they survived the battle wounds.
10.15 – 10.30: Break
10.30 – 11.15:  Leading your team while balancing demands from your boss – Managers are like a jam sandwich – you're the sweet bit in the middle. But you're caught between your bosses and your team. This session looks at navigating what your team needs and what your organisation and its senior leadership are demanding of you. How do you reconcile what sometimes feels like conflicting demands?
11.15 – 12.00:  Understanding the money – Managers are often expected to be responsible for their bit of the budget but may be unsure about how it all fits into the bigger picture or have not been trained in it. Understanding the basics such as the balance sheet, the SOFA, cash flow, reserves, working capital, assets, and risk management, will help you do your job better – and put you in a better place to take on more senior roles.
12.00 – 12.15: Break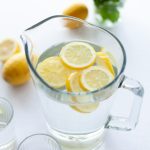 12.15 – 13.00:  Sending your team home happy – People don't want just to turn up, do a job and go home. They want to end their working day feeling satisfied and inspired. How can you inspire, influence and energise them regardless of how tough a day it's been? What can you do as a manager to send them home happy? Speaker: George Knight, Training Consultant, DSC 
13.00 – 14.00: Lunch
14.00 – 14.45:  Dealing with differences – People come in all shapes and sizes, literally and metaphorically. How do you handle more challenging team members and conversations? How do you help a group of disparate folk work together in harmony? What do you do when relationships within the team go wrong and break down? Speaker: Cathy Shimmin, Training Consultant, DSC 
14.45 – 15.00: Break
15.00 – 15.45:  Staying well
This session will look at how to deal with stress, burnout and exhaustion, both in yourself and your team. How can you balance looking after yourself whilst at the same time being present for others? Speaker: Eileen Browne, Training Consultant, DSC
15.45 – 16.00: Break
16.00 – 16.30:  Closing Keynote: It's Murder In Management – Debra Allcock Tyler is the author of the book 'It's Murder in Management'. She will share her experiences of the challenges of management of people at all levels. The highs and the lows, the horrors and the heroes. And what it takes to move from management to senior leadership or CEO roles. Speaker: Debra Allcock Tyler, CEO, DSC
Find out more about your speakers here.
Download full session details here.
Early bird prices up to and including Monday 8 January 2024
Band A: £89
Band B: £99
Band C: £119
Normal prices after Monday 8 January
Band A: £109
Band B: £119
Banc C: £139