FiMT: Forces in Mind Trust
Endowed with a £35 million grant from the Big Lottery Fund, the Forces in Mind Trust became a registered charity on 31st January 2012. Over a 20 year period, the Forces in Mind Trust will seek to enhance UK-wide support and advocacy for Service personnel, veterans and their families to make a successful transition back to civilian life.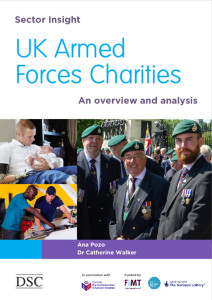 The partnership brought DSC's independent research expertise and experience in the voluntary sector to bear on a segment of the charity world which was little explored or understood. DSC's subsequent Armed Forces Charities Project meant that some of the myths and opaqueness could be lifted for the first time.
DSC undertook this research in part because we believe it is imperative to map support for veterans in detail, so that potential sources of the right support are easily identifiable. Public support, in particular for high-profile military charities, is currently quite high.  But it is highly volatile and subject to public and media perceptions and the political landscape. The timing of this project was therefore crucial, both in terms of the impact of changes on veterans and their families who will continue to need support and possibly new services and the potential for an accompanying decline in donations.