Management, Management & leadership, Finance, Finance & law
A Practical Guide to Managing in a Downturn: Staying Solvent and Surviving Well
This practical guide offers advice that could keep your charity's head above water, even in the most desperate financial times.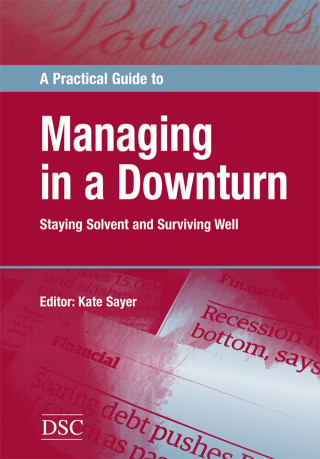 In a rough economic climate every charity is vulnerable. How can you protect your organisation from going under?
It is written by some of the top financial minds in the charity sector. Armed with their advice and clear explanations you'll be better prepared to steer through and survive any downtown.
Who should buy this book?
This guide is required reading for chief executives, top level finance executives and trustees, as well as anyone else responsible for helping their organisation survive the toughest of times.
What does it cover?
This is a practical guide, with worked through examples to help you understand the key issues every charity might face. In this comprehensive handbook you'll learn:
How to spot early warning signs, preventing financial vulnerability before it happens.
How to spread financial risk, protecting your most vital assets.
Practical tactics for managing credit and debt, staff resources and fundraising.
How to protect yourself legally and ensure you meet your obligations.
Look inside
Have a look inside Managing in a Downturn.
About the authors
Kate Sayer
Kate Sayer is a partner with Sayer Vincent consultants and auditors and has worked with charities since 1982. She advises them on a wide range of finance, tax, governance and management issues as well as auditing them. She is also a trainer, facilitator, coach, advisor and consultant.
Kate is a Chartered Accountant, with a Diploma in Charity Accounting awarded by the ICAEW and Cass Business School.  She is a member of the Charity Commission SORP Review Committee and is an active member of the Charity Tax Group, helping the campaign for fairer taxation of charities.
Kate has authored or co-authored several popular books on charity finance, including A Practical Guide to Charity Accounting, A Practical Guide to Financial Management for Charities, A Practical Guide to Managing in a Downturn and A Practical Guide to VAT for Charities all for Directory of Social Change.
Buy as downloadable pdf - Pay by card only
What is pdf?