Change for Good
Using behavioural economics for a better world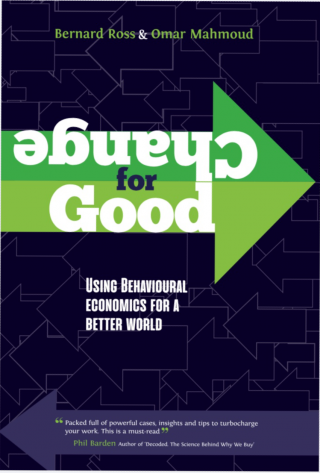 This breakthrough book explores for the first time how changes in our understanding of how the brain works when making decisions can be used for social good. It shows how techniques now common in business have the potential for creating positive radical change. It draws on the latest thinking in behavioural economics, neuroscience and evolutional psychology.
Inside is advice on how to raise more funds from supporters, how to help people to improve their diets, how to enable poor people to make good financial choices and more. At the heart of the book are the fascinating and powerful insights that we have gained in the last 10 years about how our brains work when making decisions- often summarised as behavioural economics. It also shows how techniques in common use in commercial settings can be applied to the social sector.
Who should buy this book?
It provides a powerful practical toolkit for fundraisers, campaigners, advocacy specialists, policymakers, health professionals, educationalists and social activists.
'An outsanding book at the leading edge of a topic of critical relevance for how social purpose organisations can increase their impact.' 

Michael Adamson, Chief Executive, British Red Cross

'For more than a decade governments and commercial organisations have used behavioural economics to change the way we behave and spend our money. This book puts these powerful tools in the hands of those who can use them for good and not merely for gain.' 

Mike Colling, Founder and Chief Executive MC&C: The Growth Agency, UK

'Nudge for fundraisers – and so much more in this toolkit for social change. Bernard Ross and Omar Mahmoud have produced a valuable toolkit for charities and social good organisations, explaining how they can apply lessons from recent research into how our brains woek when making decisions.' 

Howard Lake, UK Fundraising
About the authors
Bernard Ross
Bernard is an award-winning management consultant and author as well as director of The Management Centre which he co-founded with Clare Segal in 1988. He is an internationally regarded expert in strategic thinking, organisational change and personal effectiveness and works across many not-for-profit organisations in many countries including British Red Cross, NSPCC, Macmillan Cancer, and the Science Museum. He has also consulted for a number of universities including Oxford and Sorbonne.
His other books include Breakthrough Thinking and The Influential Fundraiser.
Omar Mahoud
Omar Mahoud is Chief of Market Knowledge at UNICEF International with 30 years of research experience in the private sector and international organisations. He was previously a senior marketing professional at Procter & Gamble working on some of the world's largest brands including Pringles, Pampers and Ariel. He has also taught Market Research at the International University in Geneva.