Marketing, Marketing & communications
Charity Marketing: Delivering Income, Services and Campaigns
How can you use both traditional and cutting-edge marketing techniques to earn vital funds, attract people to your services and build successful campaigns?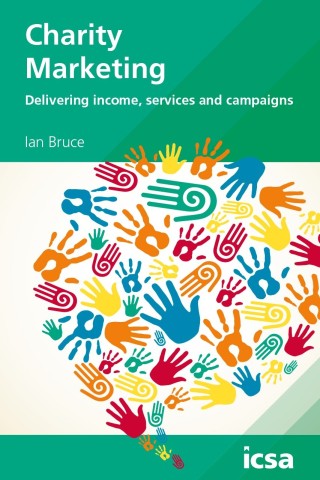 Ian Bruce's inspirational guide shares the best from both corporate and not-for-profit marketing to help your organisation stand out from the crowd.
It offers practical changes you can make right now, to your fundraising and marketing, as well as advice for developing your services and strategies to achieve your organisation's longer-term goals.
Who should buy this book?
This book touches every aspect of a charity's work, not just its marketing and fundraising. That means it's required reading for chief executives and trustees, as well as the managers of services, finance and even volunteering.
What does it cover?
You'll be informed and inspired by how Ian Bruce explains that core marketing principles should underpin everything your charity does.
Start with the core principles for marketing.
Implement what you've learned and begin to see a concrete difference.
Build in relationship marketing, to develop long-term supporters and advocates.
Lean marketing strategies to protect your organisation from difficult times.
'Ian Bruce is not just an academic, he knows it because he has done it, and he knows how to write about it.'

Sir Stuart Etherington, Chief Executive, NCVO
About the author
Ian Bruce
Professor Ian Bruce is President and Founder and Visiting Professor of the Centre for Charity Effectiveness. He is Senior Adviser to KnowHow Nonprofit the online informal learning resource which he co-founded in 2007/8. He lectures regularly overseas, at universities such as Johannesburg, Capetown, Beijing, Arizona State.
He is Vice President of the Royal National Institute of Blind People (RNIB) where for 20 years until 2003 he was Director General. He started his career with Courtaulds and Unilever as a marketing manager, and has worked in the voluntary sector as Assistant Director of Age Concern England, gaining his first chief executive role at the age of 29 at The Volunteer Centre UK (now Volunteering England). He has also had experience in local government as Assistant Chief Executive of the London Borough of Hammersmith and Fulham.
He has founded 12 third sector organisations and has been, or is a trustee of many more. His particular interests are nonprofit strategy, marketing and market research and his book Charity Marketing is in its fourth edition.
He was awarded the CBE in the Queens Birthday Honours in 2004.