Cobseo: The Confederation of Service Charities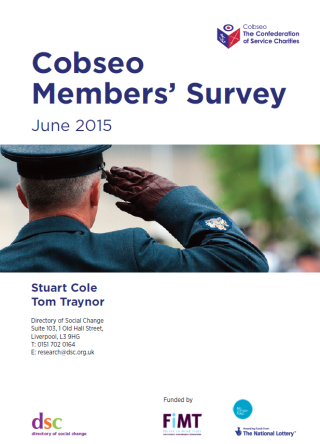 In 2015, DSC Research partnered with Cobseo (The Confederation of Service Charities) to undertake and produce Cobseo's first 'Members' Survey'.
The survey utilised a mixed methods, qualitative and quantitative data approach to create research allowing Cobseo to understand the views and experience of its members. DSC Research assisted with designing the survey questions and management of the data gathering process. We then undertook a comprehensive analysis of the data and produced a full professionally printed report, detailing the outcomes of the survey.
This report contains insights from responding Cobseo member organisation to key areas based on their membership experience.
Cobseo members' recommendations, combined with the data in this report will allow Cobseo to make effective plans and developments to support its members, the armed forces charity sector and its many beneficiaries.
The Cobseo Members' Survey 2015 was developed in partnership with Cobseo Executives and Researchers at the Directory of Social Change, who undertook the analysis and subsequent report. The survey was funded by the charity Forces in Mind.