Delivering Effective Governance
This detailed guide offers advice about what makes effective governance for organisations of all shapes, sizes and styles of charity, what might be missing and what you can do to put it right.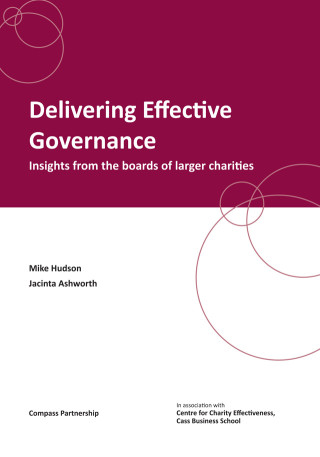 These days, effective trustee boards need to be at the heart of every effective charity. Trustees have a vital role to play, but how do you know if you are governing well?
It'll help you become a better trustee, to develop your board into something reliable and useful for senior staff, and empowering for the whole charity. Use its advice to help your organisation grow into a well-structured and efficient organisation.
Who should buy this book?
This is required reading for anyone who leads governance teams in charities, as well as trustees themselves.
Chief executives and other senior staff will find it useful to understand what good governance is, and how they can support their governors to pursue best practice.
What does it cover?
Over 500,000 people govern as charity trustees. Every one of you will benefit from the sound advice in this guide.
What is good governance and how can you achieve it?
Learn the key drivers of good governance in 200 of the UK's biggest charities.
How to review your own trustee board's performance.
Examples, case studies and illustrations to measure trustee success.
'Demonstrates the value of evidence-based research and sheds new light on actions trustees need to take to strengthen governance.' Professor Paul Palmer, Director of Cass CCE
Look inside
Have a look inside Delivering Effective Governance.
About the authors
Mike Hudson
Mike Hudson is Founder and Director of Compass Partnership and has been working with Chairs, Chief Executives and leadership teams of civil society organisations and their funders for over 30 years. He has also worked for many government departments, helping to shape policy and funding programmes for the voluntary sector. Previously Mike worked for Friends of the Earth as Administrative Director.
Mike has been a Visiting Fellow at the London School of Economics and he is currently a Visiting Fellow at the Cass Business School at City University. He is a member of the Editorial Board of Governance magazine.
His book Managing Without Profit (Third Edition) has sold well over 23,000 copies, been translated into three languages and published in an Australian edition. His other titles include: Managing at the Leading Edge, Delivering Effective Governance and Building Outstanding Leadership Teams
Jacinta Ashworth
Jacinta is a first class honours graduate from Bristol University with over 20 years' experience in conducting market and social research. For nearly ten years she worked for BMRB International, a leading UK market research agency where she managed research for the public and non-profit sectors. Jacinta's published research includes surveys for the Home Office, the British Heart Foundation, Scope, Tearfund among others.
Since 2003 she has been a Research Consultant with Compass Partnership where she has conducted research assignments for NSPCC, the Royal College of Nursing, Citizen's Advice and others. She is joint author with Mike Hudson of Delivering Effective Governance and Building Outstanding Leadership Teams.
Buy as downloadable pdf - Pay by card only
What is pdf?
Price
£15.00

(£12.50 + VAT)