Fundraising, Strategy and planning
Key Guides: Effective Fundraising
Whether you're new to fundraising, or simply need to refocus and gather some fresh ideas, this straightforward companion is for you.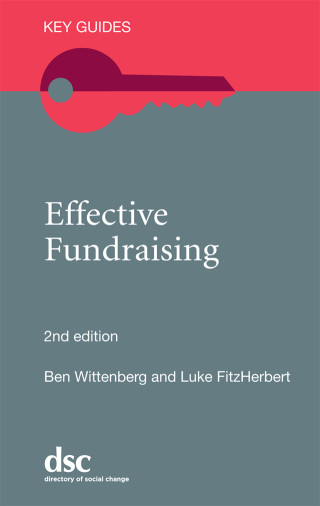 PRINT EDITION SOLD OUT – Download still available
Does your fundraising target sometimes feel like an unassailable mountain? Not sure where to start?
As well as offering tried and tested techniques, Effective Fundraising is packed with wise tips and advice from experienced authors. With their guidance in your pocket, your daunting fundraising trek will soon start to feel more like a stroll in the park.
Who should buy this book?
This is the essential fundraising tool for any charity fundraiser, chief executive and trustee.
What does it cover?
The book includes help with:
How to work out your fundraising strategy
Who the targets for your fundraising should be, and why
How to approach and raise money from individuals
What kinds of events and activities you can do to raise money
How to raise money from grant-making charities, companies and online
How to think creatively about your fundraising
'After a career in income generation and fundraising, and now as a CEO, the one constant has been my use of Effective Fundraising. It is the perfect, reassuring companion for leading a sustainable charitable organisation.'

Helen Rice, Chief Executive, Blackfriars Advice Centre

'Fundraising is a difficult skill to master but having  Effective Fundraising by your side – filled with Luke FitzHerbert's insights, passion and experience  – will help you to grow in confidence and expertise.'

Bharat Mehta, Chief Executive, Trust for London

'This book is imbued with the wise and practical advice of Luke FitzHerbert, a fundraising guru and mentor.'

Michael Norton OBE
Look inside
Have a look inside Effective Fundraising.
About the authors
Ben Wittenberg
Since joining DSC in 2003, Ben has had several roles, overseeing at various points, fundraising, website development, research, publishing, policy and campaigning. He has also been a regular columnist for Charity Times, writing on subjects ranging from the relationship between the government and the voluntary sector to good grant-making practices. He has raised more than £2 million in funding from a range of statutory, corporate, charitable and public sources. He has also run DSC training courses on fundraising from grant-making trusts, companies and government sources. He led the development of DSC's funding websites (government funding, trust funding, company giving and grants for individuals) which provide details of thousands of funders to voluntary sector organisations looking for funding to support their cause.
Prior to DSC, Ben was Project Coordinator for youth charity Weston Spirit running projects for young disadvantaged people across the UK, including Reach for the Sky, a partnership with Sky Television. Before that he worked as a Project Leader for Royal and Sun Alliance. He is an ILM Level Executive Coach and has a BA (Hons) in European Studies and Politics, an MA in European Studies, and is a PGCE qualified geography teacher. In his spare time he sits on the committee of Southport and Waterloo Athletics Club, and regularly runs (and occasionally wins) marathons and ultra marathons all over the UK.
Luke FitzHerbert
Luke FitzHerbert was an extraordinary individual. He was best known for his work as the pioneer of guides to grant-making trusts, ground-breaking publications on the lottery and company giving, his regular contributions to the sector media and his tireless campaigning for greater transparency and probity in charitable activity. His publications have become required reading for all fundraisers and his fundraising training for thousands of organisations made him into a fundraising guru.
Luke fearlessly said and wrote what he thought would be in the public interest, and he withstood pressure from the trusts to have their affairs remain closed from public scrutiny. By doing so, he singlehandedly modernised the practices of the philanthropic sector by encouraging effective, efficient and accountable grant-making for social change and for the benefit of the poor. The sector is a better place for it.
Buy as downloadable pdf - Pay by card only
What is pdf?
Buy as downloadable epub - Pay by card only
What is epub?