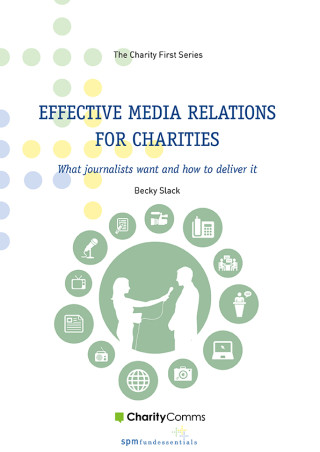 We're really sorry, but due to the current pandemic we're unable to despatch this title until at least the end of April.
If you don't mind waiting, just order as normal and we'll get your book to you as soon as we can. If you can't wait, please do check our other titles to see if they may give you the help you need. Many of are available in pdf or other electronic formats, and can be accessed instantly.
Charities have recently been receiving an unprecedented amount of critical attention from the press, with negative coverage of a wide range of issues including fundraising and marketing techniques, management and directors' pay. And according to recent research findings from nfpSynergy, a majority of journalists expect this critical trend to continue, with charities becoming subjected to ever closer scrutiny.
While some press criticism may be warranted, there are equally many instances of negative stories taking root because charities themselves fail to work proactively with the media to explain their aims and activities. Effective Media Relations for Charities aims to remedy this situation by showing charities of all sizes the practical steps required to get the media on their side.
Author, Becky Slack, is founder of Slack Communications. The book has been produced in association with CharityComms, the membership network for communications professionals working in UK charities.
What does Effective Media Relations for Charities cover?
What do you want to achieve and why?
Who do you want to speak to and why?
Your content strategy
How to pitch successful
Dealing with negative stories
Social media
Monitoring and evaluation
Key challenges faced by charities
'This book should give every charity a better understanding of how to make the case for media work; of what journalist want to know; and of how you can make the most of your resources, however limited, to deliver it.'

Vicky Browning, director CharityComms

'This book could not be more timely. It presents a clear and accessible guide to working with the media and getting positive results. As the many practical case studies in these pages demonstrate, it can be done. We do not report only bad news, we are not deaf to hard facts and reasoned argument and, believe it or not, we are not out to get you.'

David Brindle, Public Services Editor, The Guardian

'Insightful and accessible, Becky Slack has written the perfect primer for charities that really want to understand today's media landscape.'

Jon Bernstein, Editor, Writer and Digital Media Consultant
Look inside
Have a look inside Effective Media Relations for Charities.
About the author
Becky Slack
Becky Slack has worked for almost 20 years within media, including within television and radio production, print and online B2B and B2C journalism, fundraising, communications and events. Just over a decade has been spent in and around the charity sector. She has been deputy editor of Charity Times magazine, editor of Professional Fundraising and publishing editor of Charity Insight, and has been a senior fundraiser for the British Red Cross, where she worked across corporate and major donors. In addition, she is a trustee of the Flying Seagull Project, a charitable arts and theatre company that uses play and laughter to improve the lives of sick and disadvantaged children around the world. Her company, Slack Communications, provides PR and communications advice, support and skills to a range of clients, many of which are charitable organisations.
Becky blogs for publications such as Spears Wealth Management, UK Fundraising and the Slack Communication's own website, and chairs political discussions and debates for the New Statesman. She is also an active member of the Women's Equality Party. When she's not running Slack Communications, Becky loves to cook, travel, hang out with friends and family and, if there is any time left over, she's been known to write the occasional storybook for her friend's children.