Fundraising, Funding sources, Management
Fundraising Management Analysis, Planning and Practice
Do you know the research and theory behind the practice of good fundraising? If not, you could be missing a trick.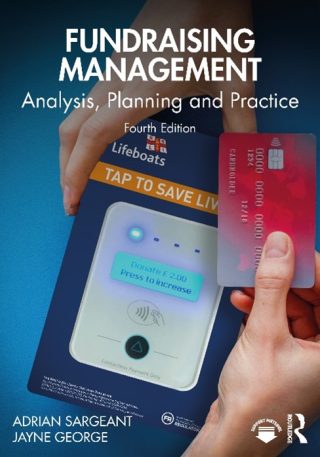 The new 4th edition applying the principles of marketing to non-profit organisations and the fundraising sector is vital for the modern fundraiser who wants to increase profitability and diversify their fundraising efforts in this challenging industry. This comprehensive how-to guide provides a thorough grounding in the principles underpinning professional practices and critically examines the key issues in fundraising policy, planning and implementation.
This new edition of Fundraising Management builds on the successful previous editions by including an integrated theoretical framework to help fundraisers develop a critical and reflective approach to their practice. Also new to this edition are how-tos on budgeting and making a strong and compelling case for investment, two vital core skills, as well as comprehensive coverage of digital fundraising and fundraising through social media. The new edition also accounts for recent changes in the fundraising environment, notably in the UK, the introduction of a new fundraising regulator and new thinking on professional ethics.
Who should buy this book?
Combining scholarly analysis with practical real-life examples, Fundraising Management has been endorsed by the Chartered Institute of Fundraising, and is mapped to the Certificate and Diploma in Fundraising, making it the definitive guide to best practice both in the UK and globally. This is a clear, problem-solving guide that no fundraising student or professional should be without.
'This book will help fundraisers become better practitioners by thinking differently. The blend of solid professional practice and academic rigour (including the latest research findings) are expertly woven together. That's really what differentiates this book – it's genuinely a fundraising textbook rather than a 'how-to' guide. The goal, shared by the Chartered Institute, is to help fundraisers apply rigorous critical thinking to their practice, to improve results and to improve the fundraising profession as a whole.'

Peter Lewis, former Chief Executive, The Chartered Institute of Fundraising

'Sargeant and George have achieved a really useful balance of fundraising practice and academic evidence. The chapter on legacy fundraising sets out practical tips on how to grow your legacy income as part of a long-term market opportunity and legacy marketing strategy. They make a compelling case for investment in fundraising activity and in the skills of fundraisers. This is a vital resource for fundraisers that want to improve their understanding of what motivates pledgers, donors and philanthropists to give. Recommended reading for all fundraisers seeking to improve their ability to assess current fundraising practice.

Rob Cope, Director of Remember A Charity
Look Inside
Have a Look Inside Fundraising Management and Analysis 4th edn
About the authors
Adrian Sargeant
Adrian Sargeant is Co-Director and Professor of Fundraising at the Institute for Sustainable Philanthropy. He was formerly the first Hartsook Chair in Fundraising at what is now the Lilly Family School of Philanthropy at Indiana University. He holds visiting appointments at Avila University and the Australian Centre for Philanthropy and Nonprofit Studies at Queensland University of Technology in Brisbane, Australia.
Jayne George
Jayne George is Fundraising, Marketing and Media Director at the Royal National Lifeboat Institution, UK. She has worked as a fundraiser for 30 years at Save the Children, The Children's Society, RNLI and Guide Dogs. She is a passionate campaigner for causes that are important to her, and is an active voluntary trustee for Weldmar Hospice in Dorset, Make a Wish UK and The Murray Parish Trust.