Fundraising Management: Analysis, Planning and Practice
Do you know the research and theory behind the practice of good fundraising? If not, you could be missing a trick.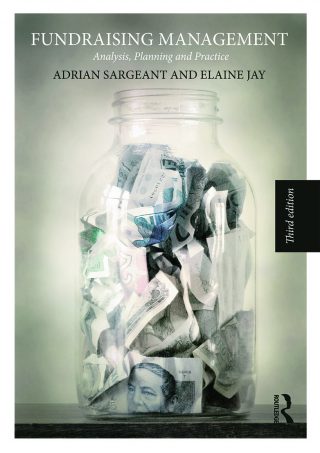 This guide will help you to understand the key academic theories behind good fundraising.
These includes from what kinds of fundraising management styles and teams work best and why; to why companies, grant-makers and individuals give; to the principles of organisational behaviour and human economics.
By grasping these key concepts, you'll become a better fundraising manager because you'll soon have the theory and the practice working perfectly together.
Who should buy this book?
This is a clear, problem-solving guide that no fundraising student or professional should be without.
What does it cover?
This key textbook and practical tool combine scholarly analysis with real-life examples.
The dynamics of teams, organisations and understanding givers.
How to manage effectively.
Drawing up, developing, executing and succeeding in your fundraising strategies.
Managing the legal and ethical issues around fundraising.
'Bang up to date with the latest best practice.'

Paul Marvell, Director of Professional Development and Membership, Institute of Fundraising

'An authoritative, clear and interesting overview of all the key issues and debates in fundraising.'

Beth Breeze, Director, Centre for Philanthropy, University of Kent

'A crystal clear guide and essential reading for the ambitious fundraiser.'

Alan Clayton, Creative Director, Revolutionise
About the authors
Adrian Sargeant, Indiana University, USA
Professor Adrian Sargeant is the world's foremost fundraising academic, holding a Chair in Fundraising at Plymouth University and directing the Centre for Sustainable Philanthropy. He was formerly the first Hartsook Chair in Fundraising at the Lilly Family School of Philanthropy at Indiana University. He also holds visiting appointments at Avila University and the Australian Centre for Philanthropy and Nonprofit Studies, Queensland University of Technology.
He is a prolific author and educator. He has published over ten books including Fundraising Management: Analysis, Planning and Practice by Routledge and around 150 academic publications.
Elaine Jay, Sargeant Associates Ltd, UK
Elaine Jay is a specialist in individual fundraising with over 26 years of experience. She has worked with a number of UK charities, including the RSPCA, as well as with Amherst Direct Marketing, WWAV Rapp Collins and Personal Fundraising Partnership.