The Guide to Grants for Individuals in Need 2018/19
This is the ultimate guide for charities and organisations working on the front line, supporting those living in poverty or with complex, multiple needs.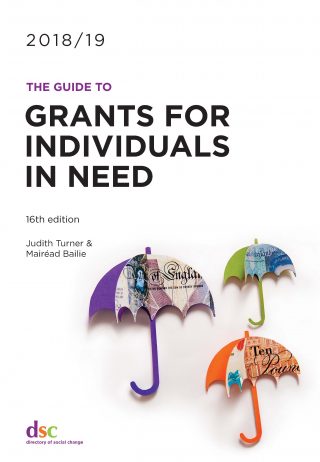 Do you help individuals and families in need of emergency financial help? This comprehensive, up-to-date and easy-to-navigate guide containing 1700 grant-making charities giving £308.5 million in funds, will simplify the often difficult task of finding the most appropriate support for your clients by outlining the eligibility criteria, amounts available and how to apply.
You'll benefit from extensive advice on how to select funds and make successful applications, as well as a directory of useful organisations.
The 16th edition of The Guide to Grants for Individuals in Need, containing over 200 new grant-makers, is the only publication to provide a comprehensive listing of all sources of non-statutory funding available for individuals in the UK.
Who should buy this book on grants for individuals in need?
It is particularly useful for key workers, social workers, advisors and housing officers, as well as charity helpline operators. Charity fundraising teams will also find it a vital guide to the funds available.
What does it cover?
This is your guide to every fund geared towards helping those living in poverty.
Clear, easy-to-navigate sections.
Cross-referenced indexes, to help you find the right fund.
Detailed information on each funder, including how to apply.
Lists of specialist support organisations who could also help.
Records are up-to-date and comprehensive including information provided by charities themselves.
'The Guide to Grants for Individuals in Need is a great resource bringing together in one place, a wide range of sources of support and help. Sadly, living in poverty is a reality for many people in the UK, but there are many charities that can help make life that bit easier – as long as you know how to find them.'

Steph Harland, CEO Age UK

'One in two people affected by a brain tumour diagnosis, experience financial difficulty. This guide is invaluable in helping us find grants and sources of funding, so we can provide essential support to people at this very difficult time.'

Beth Ryall, Information and Support Officer, The Brain Tumour Charity

'There has never been a more important time to focus on providing the best possible service to the people we support. This guide will help provide the vital connections that we all need to be able to stand up for, and serve, the people struggling most in the UK today.'

David McAuley, former Chief Executive, The Trussell Trust
Look inside
Have a look inside The Guide to Grants for Individuals in Need 2018/19.
About the authors
Judith Turner
Judith joined DSC in January 2017 as a researcher. She contributes to DSC's funding guides and helps maintain the fundraising websites. She also works on policy issues and campaigns, particularly the Big Lottery Refund campaign.
Prior to joining DSC, Judith worked and volunteered in the charity and arts sector for over ten years. She holds a MA in Sociology from the University of Manchester and her dissertation examined how cuts to funding has affected the arts sector and artist employment in Liverpool.
Mairéad Bailie
Mairéad joined DSC in June 2017 and contributed to The Directory of Grant Making Trusts 2018/19 and is working on The Guide to New Trusts 2018/19. She also works on policy issues and campaigns. Prior to joining DSC, Mairéad volunteered with various charities in Belfast before moving to Liverpool to complete her degree.
Mairéad is eager to make positive social change through her commitment to the voluntary sector and as a student intern with the Community Foundation Merseyside, contributed to their 'VitalSigns' report. Mairéad holds a BA (Hons) in Sociology and Criminology from Liverpool John Moores University.
In need of individual grant support?
If you are not a welfare advisor but are yourself in urgent need of support and think you would benefit from the information in this directory, organisations who may stock the directory as one of their resources are as follows:
the welfare or careers department of schools, colleges and universities
reference libraries
citizen's advice bureaux
member offices of Advice UK (adviceuk.org.uk)
educational advisors at local councils
Ask the organisations above if they stock the book as a resource. If they don't then encourage them to stock the latest edition to enable them to help you and point them to this page to buy the book at the best price.