The Guide to Educational Grants 2018/19
The Guide to Educational Grants contains over 1,100 sources of non-statutory financial help for people in education, offering a total of more than £55 million each year to the people you work with.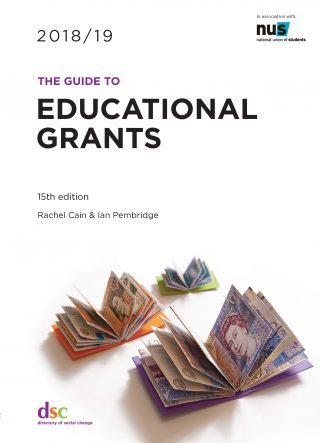 In association with the National Union of Students
The Guide to Educational Grants presents information in a reader-friendly way. It details who is eligible to receive grants, how to apply, different types of grants that are given, key information on what kind of projects are funded and the total amount of funding available.
Who should buy this book?
This book is for anyone working with students and helping them to find funds, such as:
Educational social workers, student welfare/finance officers, teachers and advice agencies including careers advisers, as well as the individuals themselves and their families.
If you work with students to advise them on money available to fund educational opportunities – whether school students, undergraduates or adult education – this guide is your one-stop-source for up-to-date information.
'This is one of the most vital resources available for young people and others engaged in our Learning and Talent Programmes. It enables us to offer clear and practical adivce – particularly those from low income families and excluded communities – and for them to achieve their ambitions.'

Steve Mannix, Executive Director, Mercury Theatre Colchester

'More than ever, we are humbled by the generosity and hard work of charities that support so many students in need. This guide is invaluable. Not only is it a comprehensive guide to sources of support available, it is testament to society's commitment to access to education which changes people's lives every day.'

Shakira Martin, NUS President
Look inside
Have a look inside The Guide to Educational Grants 2018/19.
About the authors
Rachel Cain
As a senior researcher at DSC between 2015 and 2017, Rachel contributed to DSC's funding websites and its many publications. As well as co-author of this title she also co-authored The Guide to Grants for Individuals in Need 2016/17 and The Guide to New Trusts 2016/17. She also worked on policy issues and campaigns, including the Big Lottery Refund campaign. She now works for The Sheila McKechnie Foundation that helps campaigners effect positive and lasting social change.
Ian Pembridge
Ian is a Senior Researcher at DSC where he has worked on all of DSC's core funding directories including The Guide to Major Trusts 2017/18, The Guide to UK Company Giving 2017/18 and as lead author on The Directory of Grant Making Trusts 2018/19.
He has a BA (Hons) in Politics and International Business from the University of Liverpool and has over five years' experience working in the financial services industry. His current areas of interest are company giving, European funding and international foundations.
Need educational grant support?
If you are not an educational or welfare advisor but are yourself in urgent need of an educational grant or support and think you would benefit from information in this directory, organisations who may stock the directory as one of their resources are as follows:
the welfare or careers department of schools, colleges and universities
reference libraries
Citizen's Advice
member offices of Advice UK (adviceuk.org.uk)
educational advisors at local councils
Ask the organisations above if they stock the book as a resource. If they don't then encourage them to stock the latest edition to enable them to help you and point them to this page to buy the book at the best price.