The Guide to Major Trusts 2017/18
If you need to find grants for your charity or project, the DSC's flagship guide is your definitive information source.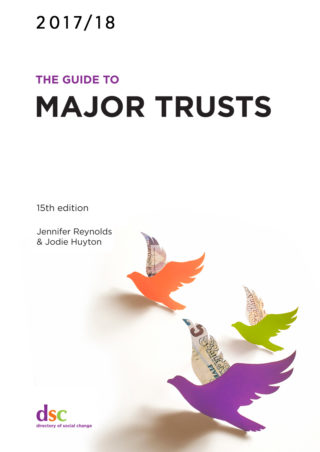 *Sold out – new edition available to pre-order from Mon 4 June 2018 here.
The Guide to Major Trusts 2017/18 is the UK's definitive detailed guide to grant funding providing thorough backgrounds on grant sources, as well as commentary and advice on how to apply and what grant-makers are looking for.
Now for the first time the guide appears in a single volume rather than two. This makes life easier for fundraisers and offers fantastic value and combining the best of both volumes. It offers information on the 1,000 largest grant makers which each give away a total of around £5.62 billion.
Who should buy this book?
This guide is an essential resource for every charity and a vital guide for fundraisers and fundraising managers.
What do they cover?
Clear descriptions of trusts' policies and practices.
Details of money available per application, and total awarded each year.
Contact details and information on how to apply.
Clear information on who is and who isn't eligible to make applications.

'Over more than 30 years, this guide has evolved into a single volume of invaluable information that equips fundraisers in charities of all sizes, whether you're new to fundraising or have been inspiring change for over 30 years yourself.' [from the Foreword], Joe Jenkins, Director of Fundraising & Supporter Engagement, The Children's Society, and Trustee, Refugee Action

'The guide provides precise and up-to-date information on funding available to charities both small and large. Most importantly, its clear focus helps fundraisers to narrow in on specific funders most closely suited to their aims.' Dan Mitchell, Training & Fundraising Manager, Blind in Business

'An extremely useful guide for up-to-date and detailed information on the donors we want to get in front of, a really good reference point that will be a key research tool for our fundraising team.' Clare Wilcox, Philanthropy Manager, Alzheimer's Society

'A great, at-a-glance guide for identifying major trusts, with useful summary information to determine whether they offer potential for your charity.' Judith Rosten, Trust Fundraiser, The Poppy Factory

'Being new to trust fundraising, I didn't know where to start when looking for suitable funding sources. The Major Trusts guide is fantastic. The information is extremely clear and easy to search and it saved me so much research time.' Julie Booth, Trust, Legacy and In Memory Fundraiser Bluebell Wood Children's Hospice
Of previous edition:
'If there is anything akin to a Fundraiser's Bible then The Guide to Major Trusts is it' Lynda Thomas, Chief Executive, Macmillan Cancer Support
'These guides save considerable time and effort in identifying the right trusts to approach for particular fundraising projects.' Peter Wallace, Development Officer (Research & Trusts), University of Hull
'A grant fundraiser's lifeline to simplify their research and determine their eligibility for grants.' Bal Kainth, Fundraising Assistant, Little Hearts Matter
Look Inside:
Have a look inside The Guide to Major Trusts 2017/18. 
About the authors:
Jennifer Reynolds
Jenny joined DSC in March 2014 and has contributed to DSC's fundraising guides and helps to maintain our funding websites. Jenny has co-authored popular titles such as the Guide to UK Company Giving, the Guide to Grants for Individuals in Need and the Guide to New Trusts.
During her time as a student at the University of Liverpool – where she graduated with a BA (Hons) in Economic and Social History – she volunteered with a number of local charities, which is where her passion to make a positive difference in the world began.
Jodie Huyton
Jodie joined DSC in 2015 and is focusing on researching charities that provide funding for educational purposes. She is currently working on the Guide to Educational Grants and our subscription websites.
Jodie has a BA in Sociology and a postgraduate certificate in research. During her postgraduate studies she researched the impact and implementation of post-1979 policies on academia and intellectuals. Whilst undertaking her postgraduate course she explored a wide range of research methodologies and became interested in the research sector environment. After graduating university she worked for a housing association for three years before decided to fulfil her ambitions and interests in research within the voluntary sector.
*Sold out – new edition available to pre-order from Mon 2 June 2018.