How to recruit trustees for your charity
How do you get talented and dynamic individuals, who are representative of their communities, on board as trustees for your cause?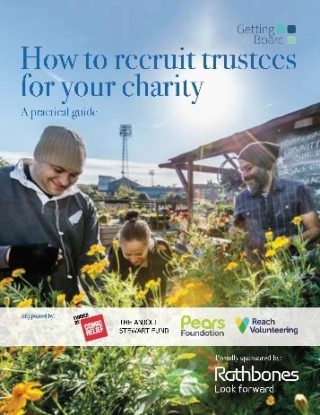 We're really sorry, but due to the current pandemic we're unable to despatch this title until at least the end of April.
If you don't mind waiting, just order as normal and we'll get your book to you as soon as we can. If you can't wait, please do check our other titles to see if they may give you the help you need. Many of are available in pdf or other electronic formats, and can be accessed instantly.
The age of the average trustee is nearly 60, they are most likely to be male and white and the majority recruited by word-of-mouth and through limited networks. It is not surprising then that more charities than not say their trustees are unrepresentative and ill-equipped to meet their needs. We have to recruit trustees differently and there is no better place to start than here.
This full-colour guide takes you through all of the practical steps of a successful trustee recruitment campaign. From assessing skills gaps in an organisation's trustee board, to effective advertisement, to developing meaningful inductions for a new trustee, this guide seeks to demystify process and promote the practice of open recruitment for charity boards.
'Using this guide from Getting on Board, charities of all sizes can successfully and affordably recruit trustees outside their usual pool of contacts.'

Sarah Atkinson, Director for Policy, Planning and Communications, Charity Commission
This full-colour, print version of this guide is available exclusively from DSC, but a free download is available from www.gettingonboard.org
Look inside
Have a look inside How to recruit trustees for your charity
Biography
How to Recruit Trustees for your Charity was created by Getting on Board, a charity that helps individuals, employers and members of professional networks become new leaders in communities through board-level volunteering. The guide was written by Lynn Cadman, a governance consultant, project manager and trainer who previously worked for the Charity Commission.