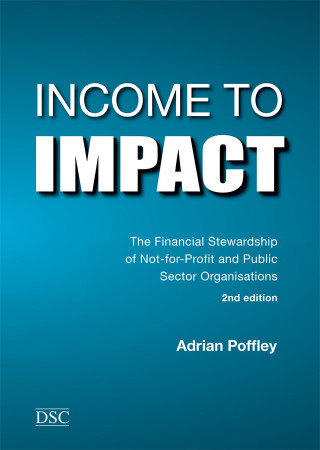 *This publication is only available to purchase from DSC as a downloadable PDF or ePub file.
In this pioneering and challenging guide, Adrian Poffley asks whether you are most efficiently transforming your charity's income into the most impact.
Are you making each penny you earn create the biggest possible impact?
It's too easy to think that earning income is a success in itself. But that's only half the job. Are you most efficiently transforming your charity's income into the most impact?
Drawing on the latest thinking of organisations and charities worldwide, Adrian outlines five key principles that should be at the heart of your organisation's strategic thinking. Financial management, he argues, should be every organisation's driving factor.
Who should buy this book?
This authoritative book is for anyone in a senior or leadership role in a charity, but will be particularly useful for trustees, chief executives, finance managers and fundraisers.
What does it cover?
You'll benefit from a dynamic, innovative approach to financial management to become agile, adaptive and responsive in times good and bad.
Why do organisations underperform?
How to avoid budget allocation traps
Measure effectiveness and ensure accountability
The critical role played by financial managers
'Adrian Poffley's thoughtful, challenging and deeply committed book comes from a different impulse. With a clear unblinking focus on the need to maximise the impact of every pound/dollar spent …Adrian Poffley brings to this work wide experience, deep knowledge and abundant commitment to explain.'

Julia Unwin CBE, Chief Executive, Joseph Rowntree Foundation

'Income to Impact opens a door to new thinking that will be indispensable to managers of public sector and non-for-profit oganizations around the world.'

Prof. H. Thomas Johnson, Portland State University, USA

'Income to Impact shows what it takes to succeed'

Michael Barber, former Head of the UK Government's Delivery Unit

'This book is a necessary read for anybody who is trying to make their organization relevant, efficient and responsive to its clients needs.'

John Wilton, former Chief Financial Officer, The World Bank
Look inside
Have a look inside Income to Impact.
About the author
Adrian Poffley
Adrian joined the World Bank in Washington in 2003, where he is currently Chief Administrative Office, Human Resources. Before joining the Bank, Adrian spent 14 years working in UK not-for-profit organisations, including as Director of Finance & Support Services of Sightsavers International and Chief Accountant of Voluntary Service Overseas. He has been Honorary Treasurer of the International Agency for the Prevention of Blindness since 2004, a role he previously held for eight years on the board of the Refugee Council. He is a Fellow of the Chartered Institute of Management Accountants.
Buy as downloadable pdf - Pay by card only
What is pdf?
Buy as downloadable epub - Pay by card only
What is epub?