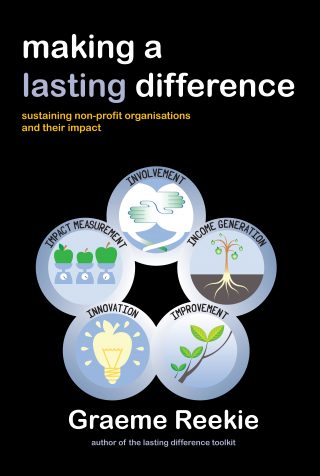 Sometimes it seems that making a lasting difference to the cause you care for is an insurmountable challenge. With finances shrinking, demand growing and capacity over-stretched it can be an up-hill struggle. This book shows you how your organisation can not only survive, but grow and thrive.
It introduces five factors that characterise truly sustainable organisations – involvement, income generation, innovation, improvement and impact measurement. Focussing on getting the key things right, Making a Lasting Difference identifies clear strategies you can act upon so you can start to achieve amazing things.
Who should buy this book?
For managers, CEO, trustees as well as policy makers, commissioners and funders.
'Graeme's thinking on sustainability should be required reading for every leader in the third sector.'

Jane Griffin, Head of Partnerships, LGBT Youth Scotland

'I like Graeme's approach to tackling "what now?" and "what next?" for our organisations, simple tools for complex problems.'

Virginia Anderson, Head of Fundraising, Bobath Scotland and Executive Vice Chair, Institute of Fundraising

'How can you sustain things when the funding stops? Making a Lasting Difference is a fantastic resource to ask those tough, challenging questions, but gives a framework to work against as well.'

Dom Williamson, Chief Executive, Shared Care Scotland

'Anybody in the non-profit sector who believes their organisation has a right to exist for its own sake needs to revaluate their purpose and identity. This book expands our understanding of sustainability, putting impact and communities at the centre.'

Keith Wimbles, Chief Executive, Impact Funding Partners
Look inside
Have a look inside Making a Lasting Difference
About the author
Graeme Reekie
Graeme Reekie has 30 years' experience at all levels of the public and voluntary sectors. He set up Scottish consultancy Wren and Greyhound, initially as a training organisation, in 2006. It now specialises in impact measurement, strategy and business development for the voluntary and public sectors.
Graeme is author of the book, Making a Lasting Difference, and the Lasting Difference toolkit.