Marketing Strategy: For Effective Fundraising
You cannot fundraise well without first thinking about effective charity marketing.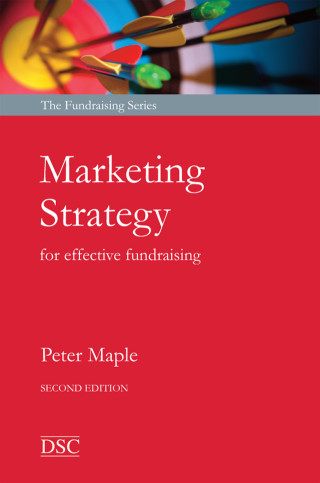 This comprehensive guide takes you through each aspect of charity marketing, linking them directly with fundraising, showing how improving one will almost always lead to more success with the other.
To earn the donations and sponsorship that keep your organisation going, you need to think about the face your organisation presents to the world. That means revisiting the brand you have developed, the marketing messages you put out, your charity's media presence and the public actions you take.
Who should buy this book?
This short guide will appeal to anyone in fundraising or marketing, but is particularly aimed at senior managers, encouraging them to work more closely together to mount joint campaigns.
What does it cover?
This is your down-to-earth guide to effective marketing for all charities and not-for-profits.
How to integrate your fundraising and marketing so they're not just working together, but are the same thing.
Does the brand you've created encourage trust in your organisation?
Covers social and new media marketing and fundraising.
Features case studies from some of the charity sector's leading brands including YMCA, Arthritis Care, Leonard Cheshire, Brooke Hospital and Crisis.
'A must read for anyone who is anyone or wants to be somebody in this wonderful world of charity communications, marketing and fundraising.' 

Mark Astarita, Director of Fundraising, British Red Cross and Chair of the UK Institute of Fundraising

'An essential guide for both those who are seeking to learn and understand marketing and fundraising and for those who seek a single main source to update and improve their knowledge and practice.'

Professor Alex Murdock, Head of Centre of Government and Charity Management, South Bank University
Look inside
Have a look inside Marketing Strategy.
About the author
Peter Maple
Peter Maple teaches Fundraising and Marketing for the MA in Charity Management at St Mary's University. He supervises and conducts research at London South Bank University (LSBU). He is also undertaking a PhD examining the nature of philanthropy.
Peter was Course Director at LSBU, developing and delivering fundraising and strategic marketing for its highly successful MSc Management in Civil Society programme. He supervised research concerning charity fundraising and was a coach, mentor and strategic consultant.
Unique among fundraising academics, Peter has been a successful fundraising practitioner and director of fundraising for more than 20 years. Senior posts held at major charities include the YMCA, Arthritis Care, Leonard Cheshire Disability, The Brooke Hospital for Animals and Crisis UK.
He is the author of a number of successful published papers and books including Marketing Strategy in the Directory of Social Change's Fundraising Series
Buy as downloadable pdf - Pay by card only
What is pdf?