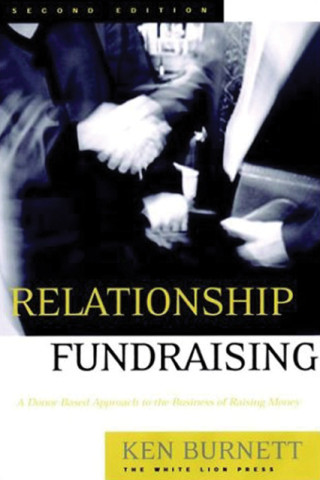 Too many charities forget that regular donors need nurturing, they want ongoing information and they like to feel part of organisations, rather than arms-length cash cows.
This entertaining guide shows you how to build and maintain relationships with donors, using both traditional and more up-to-date techniques.
It pins down some of the key types of donors and the relationships they expect. With the help of this book, you'll soon be building strong relationships that will benefit your charity in the long term.
Who should buy this book?
Anyone serious about long-term fundraising, rather than smash-and-grab, should include this book on their reading list.
Even experienced relationship fundraisers will find new ideas in this guide.
What does it cover?
This guide is packed with case studies and action points, telling you the best places to start.
Includes more than 200 action points. How many are you doing?
How to avoid the errors and pitfalls that can put your charity's relationships at risk.
Understand your donors better, so you can build better relationships with them.
Learn the best communication methods, depending on your donor type.
'…this classic guide to fundraising is probably the most widely read among UK fundraisers.' Philanthropy UK magazine, UK

 

'Relationship Fundraising is one of a handful of truly indispensable books that belong on every fundraiser's bookshelf.' Mal Warwick, Mal Warwick Associates, author of How to Write Successful Fundraising Letters and Ten Steps to Fundraising Success, USA

 

'This is the book that sets the agenda for fundraising communications in the twenty-first century. Engaging, inspiring and thought-provoking, Relationship Fundraising is based on the unique 25-year experience of one of the world's most respected fundraisers.' Bernard Ross, The Management Centre, UK

'Not since Harold Seymour's classic, Designs for Fund Raising, has a book of this magnitude come along. Ken Burnett's updated and expanded work, just may be the book to which fundraising professionals turn for the next several decades. It is as brilliant as it is heartfelt, as simple as it is eloquent.' Jerry Cianciolo, The Complete Professional's Library, Contributions Magazine, USA
About the author
Ken Burnett
Ken Burnett is an author, lecturer and consultant on fundraising, marketing and communications for nonprofit organisations worldwide. Ken was UK director of ActionAid and later director of fundraising and communications when in 1983 he founded the influential Burnett Associates agency, the first company of its type in Europe and which still continues as Burnett Works agency. Ken is now a partner with Alan Clayton in the transformational development consultancy Revolutionise and works with fundraisers worldwide to build and develop SOFII, the Showcase of Fundraising Innovation and Inspiration.
Ken has served on several non-profit boards including 13 years as a trustee of the ActionAid. He is a former vice chair of The UK's Institute of Fundraising and is a former trustee of BookAid International and the International Fund Raising Group (now The Resource Alliance). Ken is a fellow of the Institute of Fundraising and an honorary fellow of the Institute of Direct Marketing.
Ken is author of the worldwide best seller Relationship Fundraising and several other publications including How to Produce Inspiring Annual Reports (with Karin Weatherup), and The Zen of Fundraising. Towards the end of 2014 published Storytelling can change the world.
In a poll of readers of the UK magazine Fundraising in July 2011 Ken Burnett was voted to be the most influential individual in British fundraising.