Trusts and foundations, Fundraising, Research
Sector Insight: UK Grant-making Trusts and Foundations 2015
Do you want to know what makes funders tick? This in-depth analysis of 2,500 grant-making charities, covering £2.65 billion of grants and £45 billion in assets, will help you to do just that.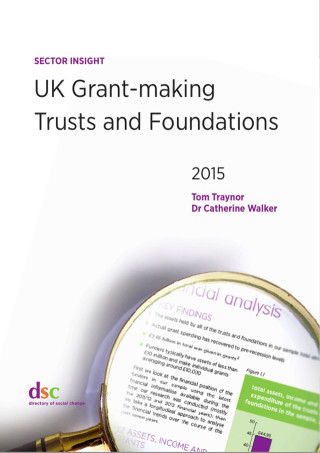 This book gives you the most comprehensive picture of independent funding for charitable endeavour in the UK to date.
The financial analysis, coupled with a more detailed focus on the practices of over 500 grant-makers, make this overview invaluable for understanding the current UK funding landscape. A number of case studies illustrate the highlights and pitfalls of the funding process, so that other funders and potential funders can learn from their peers' successes and failures.
Who should buy this book?
This unrivalled resource is for anyone interested in the UK's charitable funding environment, and is an ideal sister resource to DSC's well-established funding directories. The ground breaking analysis is a must-read for existing trusts and foundations, philanthropists, academics, researchers and charity sector leaders and influencers.
What does it cover?
Financial analysis of the UK trusts and foundations sector
An exploration of the geographical distribution of grant-making
Who grant-makers give to and what kinds of appeals they tend to support
A more detailed study of over 500 trusts and foundations
Commentary on the state of trust funding today
 What people say about this book
'Timely and important … a fascinating insight into the funders' world… For me the real value of this report is that we can at last begin to understand the distributive impact of grant-making in the UK.' Dame Suzi Leather, chair of LankellyChase Foundation and former chair of the Charity Commission
Look inside
Have a look inside Sector Insight: UK Grant-making Trusts and Foundations.
About the authors
Tom Traynor
Since joining the Directory of Social Change in 2001, Tom has researched and authored numerous publications including The Guide to Major Trusts, The Directory of Grant Making Trusts and The Funders' Almanac. In addition he has led DSC's Research Team in the delivery of its core research projects, guides, directories and funding websites.
As Head of Research he is responsible for delivering DSC's research strategy, developing research partnerships with funders and other research organisations and leading DSC's Sector Insight and bespoke research projects.
He has been a trustee of a local arts organisation and a grants assessor for a community foundation, and also volunteered for an educational charity and a community media project. He has a keen interest in trusts and foundations, philanthropy and social policy and has written and commented on arrange of voluntary sector issues.
Dr Catherine Walker
Catherine has worked in the UK voluntary sector for the last 16 years, including with Charities Aid Foundation (CAF) where she was Head of Research from 1999 to 2006, and DSC where she was Head of STEAM (Sector Trends Evidence Analysis & Metrics) from 2010 to 2015. In between these roles Catherine worked as a freelance consultant ,including with Dwr Cymru/WelshWater, NCR Knowledge Lab, l'Universite´ Paris Descartes, CAF, Barnardo's and NESTA.
Catherine has a PhD in Economic Psychology, was an Associate Editor of the Journal of Economic Psychology and is a longstanding member of the International Association for Research in Economic Psychology.
She is also the author of several well-known books and reports on giving, including A Lot of Give, The Company Giving Almanac, UK Giving, Charity Trends, Growing into Giving and Making Time for Charity. In 2015, Catherine founded The Researchery: a research consultancy which specialises in research in the UK voluntary sector. She is an experienced freelance project manager with expertise in the funding environment for the UK.
Buy as downloadable pdf - Pay by card only
What is pdf?