Funding sources, Trusts and foundations, Fundraising
25th edition – The Directory of Grant Making Trusts 2018/19
With this guide, you'll have access to key information about 2,000 grant-makers, each with the potential to give at least £40,000 per year.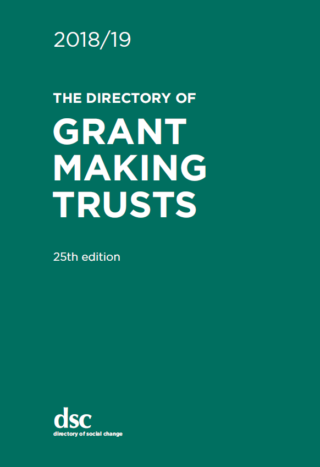 Now celebrating its landmark 25th edition, the UK's best-selling guide to funding from grant-making charities is back.
The Directory of Grant Making Trusts offers the information you need to seek your charity's share of over £5 billion – the annual total awarded by the 2,000 funders featured in this edition. With data sourced directly from grant-making charities, each with the potential to give at least £40,000 per year, no charity – big or small – should be without it.
Who should buy this book?
This is the key information source for fundraisers, with which you can save time on finding funding prospects, target the grant-makers most relevant to your charity and discover funders you might not have known existed
This book was voted fourth on The Guardian's 2016 list of "Five must-reads for charity workers".
What does it cover?
DSC's flagship guide to grant-makers includes:
Concise information and contact details for every entry
Total amounts of funding available from each grant-maker
Examples of beneficiaries in each listing, for guidance on the types
of project previously funded
Extensive indexes divided by geographical area, field of interest and type of beneficiary, and type of grant available
Each grant-maker's description of project types that can or cannot
qualify for funding
'The Directory of Grant Making Trusts is an invaluable tool for NYCGB, especially as it categorises grant-makers by field of interest and type of beneficiary. We use this guide regularly to identify prospective new funders and as a result have secured new funding from over thirty trusts and foundations in the past 18 months.' Rob Colbert, Acting Director of Development, National Youth Choirs of Great Britain

'We use the directory as the bedrock of our trust fundraising planning every year.  Medical research can be hard to fund from trusts and whether to use this guide or not as part of our research mix is simply non-negotiable for our fundraising team.  The format of this essential resource – used in in conjunction with its sister funding website – enables us to make clear and focused fundraising approaches which in turn result in more successful fundraising bids.' Birgitta Clift, Trust Fundraiser, Bowel & Cancer Research

'As a large and diverse charitable organisation, we have found the directory ideal for identifying new funding sources that support our work with vulnerable people in our communities. The directory has empowered us to be innovative in the ways we seek funds and thanks to it we have raised significant income that otherwise would have passed us by!' Neil MacLaren, Funding Manager, Nottinghamshire YMCA

'The Directory of Grant Making Trusts is an invaluable source of quality data connecting fundraisers with foundations. By providing such data, the directory saves fundraisers and grant-makers alike an enormous amount of time, effort and, ultimately, precious resources.' Carol Mack, Chief Executive, ACF [from the Foreword]
Look inside
Have a look inside The Directory of Grant Making Trusts 2018/19.
About the authors
Ian Pembridge
Ian joined DSC in as a volunteer in April 2014 before becoming a full-time member of the team later that year, and he has worked on several publications including The Guide to Grants for Individuals in Need, The Guide to Company Giving and The Directory of Grant Making Trusts. He has also been involved in a variety of other research projects including the Sector Insight: UK Grant-Making Trusts and Foundations and Armed Forces Charities reports.
He currently splits his time between working on DSC publications and managing content of the funding websites, which bring together information on many sources of local and national funding. His main responsibilities are keeping the website up to date, researching new funding opportunities and acting as a main point of contact for both funders and subscribers.
Are you looking for a wider range of funding available? As well as our printed publications, you can have a look at our funding websites.