Fundraising, Trusts and foundations, Funding sources
The Directory of Grant Making Trusts 2020/21
With this guide, you'll have access to key information on about 2,000 grant-makers, each with the potential to give around £50,000 or more per year.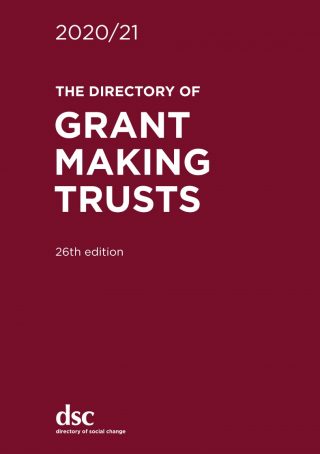 Please note that the 27th edition for 2022/23 is now available to pre-order (published September).
Now in its 26th edition, the UK's best-selling guide to funding from grant-making charities is back.
The Directory of Grant Making Trusts offers the information you need to seek your charity's share of over £5 billion – the annual total awarded by the 2,000 funders featured in this edition. With data sourced directly from grant-making charities, each with the potential to give around £50,000 or more per year, no charity – big or small – should be without it.
Who is this book for?
This is the key information source for fundraisers, with which you can save time on finding funding prospects, target the grant-makers most relevant to your charity and discover funders you might not have known existed.
This book was voted fourth on The Guardian's 2016 list of "Five must-reads for charity workers".
What does it cover?
DSC's flagship guide to grant-makers includes:
Concise information and contact details for every record
Total amounts of funding available for each grant-maker
Examples of beneficiaries in each listing, for guidance on the organisations previously funded
Extensive indexes divided by geographical area, field of interest and type of beneficiary, type of organisation, and type of grant available
Each grant-maker's description of project types that can or cannot qualify for funding
'As a small charity we need to carefully target our limited fundraising resources, so the directory is an indispensable guide to identifying and prioritising the funds that most closely match our specialist services for refugees and asylum seekers.'

Karen Lawson, Funding and Projects Manager, Suffolk Refugee Support

'Never mind a place on the bookcase, this directory should be by your side at all times.'

Thomas Wilson, Trust Fundraiser, Northern Ireland Hospice

'No one wants to spend unnecessary time making or reviewing inappropriate applications and so being able to depend on a resource such as The Directory of Grant Making Trusts is hugely valuable. With those many thousands of grant-making bodies nationwide, it's easy to feel overwhelmed and having the key details of the geographical area, grants awarded and, most importantly, funding interests, priorities and criteria all in one place is incredibly useful to find the grant-maker that can be right for your charity and project.'

Amanda Bringans, Director of Fundraising, British Heart Foundation and Chair of Trustees, Institute of Fundraising [from the Foreword]
Look inside
Have a look inside The Directory of Grant Making Trusts 2020-21
About the author
Mairéad Bailie
Mairéad joined DSC in June 2017 and contributed to The Directory of Grant Making Trusts 2018/19, as well as co-authoring The Guide to New Trusts 2018/19 and The Guide to Grants for Individuals 2018/19. She also works on policy issues and campaigns. Prior to joining DSC, Mairéad volunteered with various charities in Belfast before moving to Liverpool to complete her degree. Mairéad is eager to make positive social change through her commitment to the voluntary sector. Mairéad holds a BA (Hons) in Sociology and Criminology from Liverpool John Moores University.