The Guide to Educational Grants 2016/17
The Guide to Educational Grants contains over 1,000 sources of non-statutory financial help for people in education, offering a total of around £50 million each year to the people you work with.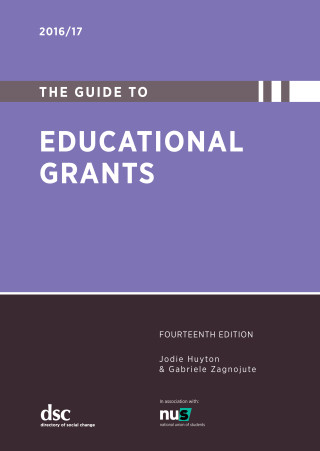 The Guide to Educational Grants 2016/17 lists over 1,000 grant-making charities and is indexed to help you find the funds most relevant to those you work with. The guide also contains advice for applying for funding from the specific grant-makers themselves.
Who should buy this book?
This book is for anyone looking for funding for school pupils and undergraduate students including:
Educational social workers; student welfare/finance officers; teachers and advice agencies; careers advisers; individuals and their families.
If you work with students, up to and including those at undergraduate level, advising them on money available to study or undertake research, this guide is your one-stop-source for up-to-date information.
What does it cover?
This is the ultimate guide to education-related grants available in the UK.
Who is eligible and how to apply
What types of grants are given and for what kind of projects/individuals
Total amounts of funding available
Quick and easy to use
'The generosity, commitment and hard work of charities in supporting students in need is often overlooked. This guide is so important at showing the incredible range of organisations supporting students.' Megan Dunn, NUS National President [from the Foreword]

'This guide understands its audience. Meticulously researched, comprehensive and user-friendly, it has continued to stay in tune with developments in educational funding over the decades, making it as invaluable as ever.' Alan French, Fundraiser

'We have purchased this guide for many years now. It is an invaluable resource that helps us identify funds for the parents we work with and it is particularly useful where there are no other sources of funding available.' Susan Rew, Information & Training Manager, One Parent Families Scotland

'A useful resource for supporting individuals to source additional funding for their studies. Well laid-out and easy to use, it provides clear information about eligibility and restrictions.' Laura France, Senior Partnership Officer, Teach First
Look Inside
Have a look inside 'The Guide to Educational Grants 2016/17' here
About the authors
Jodie Huyton
Jodie joined DSC in 2015 and is focusing on researching charities that provide funding for educational purposes. She is currently working on The Guide to Educational Grants and our subscription websites.
Jodie has a BA in Sociology and a postgraduate certificate in research. During her postgraduate studies she researched the impact and implementation of post-1979 policies on academia and intellectuals. Whilst undertaking her postgraduate course she explored a wide range of research methodologies and became interested in the research sector environment. After graduating university she worked for a housing association for three years before decided to fulfil her ambitions and interests in research within the voluntary sector.
Gabriele Zagnojute
Gabi has worked in the research team at Directory of Social Change since 2013 starting initially as a volunteer. Since then she has become a full-time researcher working on a number of publications and projects. Her work has included major contributions to The Guide to Educational Grants, The Guide to UK Company Giving  and  The Directory of Grant Making Trusts.
Gabi enjoys exploring the colourful world of charities and says that there is something to learn every day. She finds it inspiring to work with and for people who want to make a difference.
Need educational grant support?
If you are not an educational or welfare advisor but are yourself in urgent need of an educational grant or support and think you would benefit from information in this directory, organisations who may stock the directory as one of their resources are as follows:
the welfare or careers department of schools, colleges and universities
reference libraries
citizen's advice bureaux
member offices of Advice UK (adviceuk.org.uk)
educational advisors at local councils
Ask the organisations above if they stock the book as a resource. If they don't then encourage them to stock the latest edition to enable them to help you and point them to this page to buy the book at the best price.