Fundraising, Funding sources, Trusts and foundations
The Guide to Major Trusts 2019/20 - New edition! Pre-order now.
If you need to find grants for your charity or project, this guide is your definitive information source to the largest 1,000 grant-makers.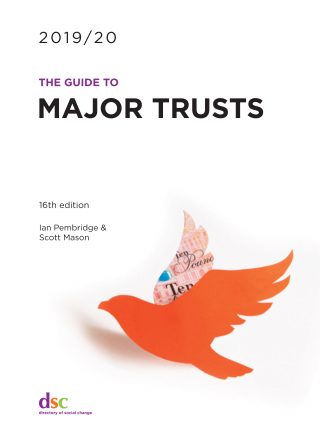 Available to pre-order, to be published September 2018. Add to basket at bottom of page. Can't wait? You can order The Directory of Grant Making Trusts 2018/19 now.
The Guide to Major Trusts 2019/20 is the UK's definitive detailed guide to grant funding. It provides thorough backgrounds on grant sources, as well as commentary and advice on how to apply and what grant-makers are looking for.
It offers information on the 1,000 largest grant-makers which award a combined total of over £5 billion. It includes:
Clear descriptions of grant-makers' policies and practices.
Details of money available per application, and total awarded each year.
Contact details and information on how to apply.
Clear information on who is and who isn't eligible to make applications. Full regional and subject indexes
Who should buy this book?
This directory is an essential resource for every charity and a vital guide for chief executives, trustees, fundraisers and fundraising managers.
'Following the Design Museum's move to our new Kensington home, The Guide to Major Trusts has become the cornerstone for our research and a great help in planning our approaches to new funders who might support our learning programmes.'

Edwina Roberts, Trusts and Foundations Manager, The Design Museum

'With over 9,000 trusts distributing charitable funding, identifying those sympathetic to our cause can be time consuming. The Guide to Major Trusts has been an invaluable resource in making the task more time and energy efficient. It's well organised, easy to use and the comprehensive structure helps narrow down searches with confidence.'

Hannah Rudd, Trust and Grants Fundraiser, Dorothy House Hospice Care

'Trust fundraising can be a bit of a minefield, especially if you're working in a very small fundraising team with limited resources. This guide is a must-have tool, offering all the information you need in one place and saving valuable time.'

Alexandra Spurgeon, Supporter Relationship Manager, National Animal Welfare Trust
Reviews of previous edition:
'Over more than 30 years, this guide has evolved into a single volume of invaluable information that equips fundraisers in charities of all sizes, whether you're new to fundraising or have been inspiring change for over 30 years yourself.' [from the Foreword], Joe Jenkins, Director of Fundraising & Supporter Engagement, The Children's Society, and Trustee, Refugee Action

'The guide provides precise and up-to-date information on funding available to charities both small and large. Most importantly, its clear focus helps fundraisers to narrow in on specific funders most closely suited to their aims.' Dan Mitchell, Training & Fundraising Manager, Blind in Business

'An extremely useful guide for up-to-date and detailed information on the donors we want to get in front of, a really good reference point that will be a key research tool for our fundraising team.' Clare Wilcox, Philanthropy Manager, Alzheimer's Society

'A great, at-a-glance guide for identifying major trusts, with useful summary information to determine whether they offer potential for your charity.' Judith Rosten, Trust Fundraiser, The Poppy Factory
About the authors:
Ian Pembridge
Ian joined DSC in as a volunteer in April 2014 before becoming a full-time member of the team later that year, and he has worked on several publications including The Guide to Grants for Individuals in Need, The Guide to Company Giving and The Directory of Grant Making Trusts. He has also been involved in a variety of other research projects including the Sector Insight: UK Grant-Making Trusts and Foundations and Armed Forces Charities reports.
He currently splits his time between working on DSC publications and managing content of the funding websites, which bring together information on many sources of local and national funding. His main responsibilities are keeping the website up to date, researching new funding opportunities and acting as a main point of contact for both funders and subscribers.
Scott Mason
Scott joined DSC in January 2018. He has a BA (Hons) and an MA (Hons) in Politics and International Relations from Lancaster University.
Prior to working for DSC, Scott worked as a researcher with a number of third sector organisations including, The Centre for Internet & Society, where he conducted research into privacy and big data. His current interests include; social value, corporate social responsibility, co-production, and deliberative democracy.