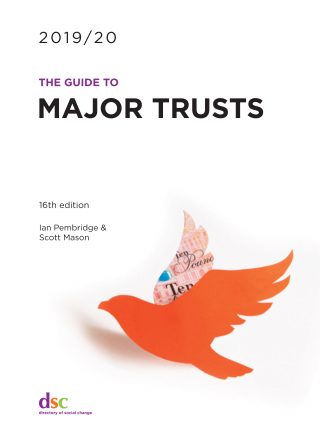 Now out of print – the next edition (17th) will be available from Sept 2022. Instead, why not consider The Directory of Grant Making Trusts
The Guide to Major Trusts 2019/20 is the UK's definitive detailed guide to grant funding. It provides thorough backgrounds on grant sources, as well as commentary and advice on how to apply and what grant-makers are looking for.
This sixteenth edition offers information on 1,004 of largest grant-makers which award a combined annual total of over £5.5 billion. It includes:
Clear descriptions of grant-makers' policies and practices
Essential financial facts, including the annual total of grants awarded
Clear descriptions of eligibility criteria for applicants
Funders' contact details and how to make an application
Full regional and subject indexes
Social media accounts of each charity, where available
Who should buy this book?
This directory is an essential resource for every charity and a vital guide for chief executives, trustees, fundraisers and fundraising managers.
Have a look at the Research Brief for this publication for a summary of what to expect.
'Following the Design Museum's move to our new Kensington home, The Guide to Major Trusts has become the cornerstone for our research and a great help in planning our approaches to new funders who might support our learning programmes.'

Edwina Roberts, Trusts and Foundations Manager, The Design Museum

'With over 9,000 trusts distributing charitable funding, identifying those sympathetic to our cause can be time consuming. The Guide to Major Trusts has been an invaluable resource in making the task more time and energy efficient. It's well organised, easy to use and the comprehensive structure helps narrow down searches with confidence.'

Hannah Rudd, Trust and Grants Fundraiser, Dorothy House Hospice Care

'How very fortunate that in an ever-changing and increasingly uncertain funding environment, we can continue to rely on the veritable mine of up-to-date information contained in this guide. I first came across it over twenty-five years ago and it is as valuable now as it was then – providing clear, comprehensive information to help you navigate through this complex world and find the partners that will be right for your charity.'

Kath Abrahams, Director of Engagement and Fundraising, Diabetes UK [from the foreword]

'Trust fundraising can be a bit of a minefield, especially if you're working in a very small fundraising team with limited resources. This guide is a must-have tool, offering all the information you need in one place and saving valuable time.'

Alexandra Spurgeon, Supporter Relationship Manager, National Animal Welfare Trust
Look inside
Have a look inside The Guide to Major Trusts 2019/20.
About the authors
Ian Pembridge
Ian is a Senior Researcher at DSC where he has worked on all of DSC's core funding directories, including The Guide to Major Trusts 2017/18, The Guide to UK Company Giving 2017/18 and as lead author on The Directory of Grant Making Trusts 2018/19.
He has a BA (Hons) in Politics and International Business from the University of Liverpool and has over five years' experience working in the financial services industry. His current areas of interest are company giving, European funding and international foundations.
Scott Mason
Scott joined DSC in January 2018. He has a BA (Hons) and an MA (Hons) in Politics and International Relations from Lancaster University.
Prior to working for DSC, Scott worked as a researcher with a number of voluntary sector organisations including The Centre for Internet & Society, where he conducted research into privacy and big data. His current interests include social value, corporate social responsibility, co-production and deliberative democracy.
Now out of print – the next edition (17th) will be available from Sept 2022. Instead, why not consider The Directory of Grant Making Trusts