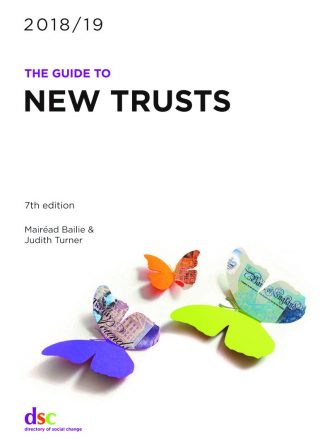 Please note the hard copy of this title has now sold out, but downloads are still available.
This annual guide tracks new grant-makers established every year, offering their details to you in an easy-to-understand format. The Guide to New Trusts saves you time and resources by including over 100 new funders, registered with the Charity Commission or the Scottish Charity Regulator in 2017/18, whose giving criteria are broad enough to be relevant to a large number of charities.
At a glance you can find the details of each new grant-maker, their aims and objectives, the types of projects they fund and their application process. This new edition includes two new types of indexes (an index of causes and a geographical index), making it even easier to find funding for your charity.
The guide covers several corporate charities as well as providing information on grant-makers established by individuals, families and even a number of famous faces. These grant-making charities present some truly exciting opportunities for fundraisers.
Who should buy this book?
As the UK's leading guide to new grant-makers, it is ideal for any fundraiser in need of a source of information on new funding available. It gives you a head start in applying for funds, as well as in establishing relationships with those new to grant-giving.
Have a look at the Research Brief for this publication for a summary of what to expect.
What does it cover?
 This seventh edition of the guide includes:
Essential, up-to-date information in every entry
Two new types of indexes, making reference more efficient than ever before
Details of the causes that these grant-makers do and do not fund
Facts about the grant-making charities' policies, contact details and application guidelines
Latest social media information on each charity, where available
'The Guide to New Trusts is a clear and concise source of information on potential funders for our work. It enables us to identify new trusts to approach quickly and easily.'

Heather Brice, Trusts Manager, Cats Protection
'Fundraisers will find, by saving valuable time and effort, that the guide will become a key part of their armoury in developing an effective fundraisng strategy.'

Iskren Kulev, Founder and CEO, KindLink
'The Guide to New Trusts was indispensable to our trust fundraising programme. It's been an excellent resource for finding new trusts by quickly assessing whether or not we match their criteria.'

Adele Kaupaityte, Trusts Fundraising Officer, The Honeypot Children's Charity

'The Guide to New Trusts from DSC is my go-to resource. The book puts vital, up-to-date information at my fingertips so that I never miss out on a funding opportunity.'

Bethany McDonald Shepherd, Head of Trusts and Foundations, The Royal Central School of Speech and Drama

'As a busy development worker in a small team, it is so useful to have a tool which saves me time and effort in identifying the right trusts for our members to approach for the funding of their particular projects.'

Joanne Stanton, Development Worker, Chester Voluntary Action
Look inside
Have a look inside The Guide to New Trusts 2018/19.
About the authors
Mairéad Bailie
Mairéad joined DSC in June 2017 and contributed to The Directory of Grant Making Trusts 2018/19, as well as co-authoring The Guide to New Trusts 2018/19. She also works on policy issues and campaigns. Prior to joining DSC, Mairéad volunteered with various charities in Belfast before moving to Liverpool to complete her degree.
Mairéad is eager to make positive social change through her commitment to the voluntary sector and as a student intern with the Community Foundation Merseyside, where she contributed to their 'VitalSigns' report. Mairéad holds a BA (Hons) in Sociology and Criminology from Liverpool John Moores University.
Judith Turner
Judith joined DSC in January 2017 as a researcher. She was co-author of the previous edition of The Guide to New Trusts and the lead author of The Guide to Individuals in Need 2018/19. She also contributes to DSC's other funding guides and fundraising websites. She works on policy issues and campaigns, particularly the Big Lottery Refund campaign.
Prior to joining DSC, Judith worked and volunteered in the charity and arts sector for over ten years. Judith holds a BA (Hons) in Media and Cultural Studies from Liverpool John Moores where she first became interested in cultural policy. She holds a MA in Sociology from the University of Manchester and her dissertation examined how cuts to funding has affected the arts sector and artist employment in Liverpool.
The Guide to New Trusts 2022/23 is available:
Pdf downloads of previous editions of The Guide to New Trusts are available:
Buy as downloadable pdf - Pay by card only
What is pdf?
Buy as downloadable epub - Pay by card only
What is epub?