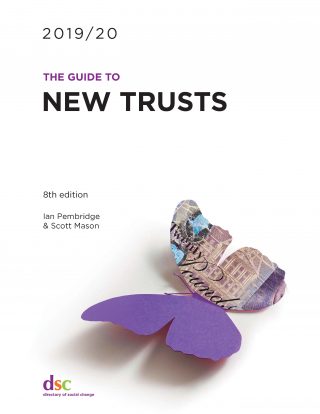 Finding new grant-makers is a time-consuming and intricate business. The Guide to New Trusts takes the leg-work out of the process to help you beat a short path to new funders who might support your cause.
The grant-makers in this guide, all registered in 2018/19, were chosen for their wide geographical area of operation and the breadth of their giving criteria, making them relevant to a large number of charities.
Who should buy this book?
As the UK's leading guide to the latest grant-making charities, this is a vital resource for anyone looking for potential new funding for their organisation.
What does it cover?
 At a glance, you can find essential, up-to-date information on:
Grant-makers' aims and objectives
The causes or types of project they do and do not fund
Contact details, policies and application guidelines
Any available social media account information
This new edition contains some truly exciting opportunities, including some grant-making charities established by entrepreneurs, investment bankers, sports people and a notable fashion designer. This edition also reports on the progress and current giving practices of a few of the most effective  grant-makers from the previous edition.
'This guide is a must-have for any trust fundraiser. It has helped us to secure significant funding from new donors who continue to support our work year on year.'

Pete Lewis, Director of fundraising, Surfers Against Sewage

'The Guide to New Trusts has been a fantastic tool when researching for potential new funders. The guide offers the information in a clear and concise format, saving valuable research time.'

Julie Booth, Trust and Legacy Fundraiser, Bluebell Wood Children's Hospice
Look inside
Have a look inside – The Guide to New Trusts 2019-20
About the authors
Ian Pembridge
Ian is a Senior Researcher at DSC where he has worked on all of DSC's core funding directories, including The Guide to Major Trusts 2017/18, The Guide to UK Company Giving 2017/18 and as lead author on The Directory of Grant Making Trusts 2018/19.
He has a BA (Hons) in Politics and International Business from the University of Liverpool and has over five years' experience working in the financial services industry. His current areas of interest are company giving, European funding and international foundations.
Scott Mason
Scott joined DSC in January 2018. He has a BA (Hons) and an MA (Hons) in Politics and International Relations from Lancaster University. Since joining DSC, Scott has co-authored the 16th edition of The Guide to Major Trusts and has assisted with the development of DSC's Funds Online fundraising website.
Prior to working for DSC, Scott worked as a researcher with a number of third sector organisations including, The Centre for Internet & Society, where he conducted research into digital privacy and big data. His current interests include; social value, corporate social responsibility, and digital fundraising.
The Guide to New Trusts 2021/22 is available:
Pdf downloads of previous editions of The Guide to New Trusts are available:
Buy as downloadable pdf - Pay by card only
What is pdf?