The Guide to UK Company Giving 2017/18
The leading guide which includes details of more than 400 companies in the UK that contribute to society by supporting their communities and voluntary organisations.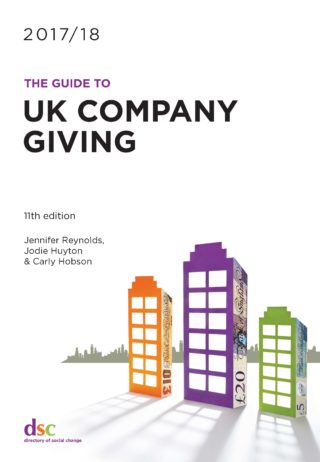 Every year, UK companies contribute to society by supporting their communities and voluntary organisations. To improve your chances of benefitting, you need to know which companies give, why they do it, what their criteria are, and how to ask in the right way.
This guide not only provides a detailed insight into more than 400 companies and their giving strategies, but also advises on how to identify those most likely to support your organisation. Their combined contribution in cash donations and a diverse range of in-kind support amounts to over £420 million.
This comprehensive guide contains a full description of each company's community activities, along with a separate section on corporate grant-making charities.
What does it cover?
Giving in the UK
How to apply
Recipients of previous funding
Corporate social responsibility (CSR)
Partnerships, including Charity of the Year
Matched funding and payroll giving
Commercially led support and pro bono work
Ratio of women to men on the board of directors
NEW Reporting on anti-slavery
NEW Section on football clubs
NEW Giving to unpopular causes
NEW Status as a Living Wage Employer
NEW Giving to small or unregistered charities
Who should buy this book?
Both voluntary organisations seeking support from corporates, and companies looking to develop their community giving strategy, should own this indispensable guide. Research organisations and individuals investigating UK corporate giving and CSR will also need this vital resource.
'So comprehensive it means a lot of the desk research that would otherwise put an even greater drain on scarce resource, is here, already at your fingertips. At a time when effective partnerships are the key to lasting sustainability, this guide offers a powerful lens through which to identify strategic corporate/voluntary partnership opportunities.' Sharon Orr, Community Affairs Manager, Provident Financial Group [from the foreword]

'This book has been very useful and given us a great insight into the world of giving. It has increased our knowledge and resilience in the sector.' Clare de Bathe, Trust Director, Chichester Community Development Trust

'Before you start typing a target name into your search engine, pick up this book; clear and reliable information in an accessible format that will save you hours in web searches and help your make relevant approaches for corporate support.' Victoria Copeland, Corporate Relationships Manager, Blind Veterans UK

'The UK Company Giving book, is a good tool for accessing top line information about a company's charitable giving activity.  I would recommend this book because it provides a comprehensive overview of how companies are working with charities and provides useful background information when conducting my research.' Michelle Campbell, Senior Corporate Development Manager, Leonard Cheshire Disability

'Here at the RSA, we refer to the DSC directory as the 'fundraising bible' which I think goes to show the importance we place on it as an organisation!  It's the first port of call for us and our colleagues when we start to design our projects and think about our funding partners.  The categorization of the grant making organizations enables us to quickly identify those organisations most strategically aligned with our mission and programmes and hone our approaches.' Laura Partridge, Head of Business Development and Partnerships,  RSA

'The quality and reliability of analysis put this directory head and shoulders above comparable publications. An invaluable resource for both researcher and fundraiser alike.' Stephen Brammer, Executive Dean, Faculty of Business and Economics, Macquarie University, Australia
Look inside
Have a look inside The Guide to UK Company Giving 2017/18.
About the authors
Jennifer Reynolds
Jenny joined DSC in March 2014 and has contributed to DSC's fundraising guides and helps to maintain our funding websites. Jenny has co-authored popular titles such The Guide to Major Trusts, Guide to UK Company Giving, the Guide to Grants for Individuals in Need and the Guide to New Trusts.
During her time as a student at the University of Liverpool – where she graduated with a BA (Hons) in Economic and Social History – she volunteered with a number of local charities, which is where her passion to make a positive difference in the world began.
Jodie Huyton
Jodie joined DSC in 2015 and is focusing on researching charities that provide funding for educational purposes and company giving.
Jodie has a BA in Sociology and a postgraduate certificate in research. During her postgraduate studies she researched the impact and implementation of post-1979 policies on academia and intellectuals. Whilst undertaking her postgraduate course she explored a wide range of research methodologies and became interested in the research sector environment. After graduating university she worked for a housing association for three years before decided to fulfil her ambitions and interests in research within the voluntary sector.
Carly Hobson
Carly joined DSC in February 2016. She has worked and volunteered in the charity sector over the past ten years in fundraising, community work and campaigning. As a fundraiser she made applications to grant making trusts and the Big Lottery for a charity supporting people with learning disabilities. Carly has more recently worked as an advocate and volunteer manager for a health and social care charity.
Carly has a BA (Hons) in Literature from Liverpool John Moores University and an MA in Social Change from the University of Leeds. Carly spent some time volunteering in a Penan school in Borneo, which later led to her MA action research dissertation working on a campaign supporting the Penan's rights to their land with the charity Survival International. She has previously also volunteered with asylum seeker and refugee support groups, a charity supporting children in Nigeria and on environmental projects. She is currently involved in setting up an eco housing co-operative and has a keen interest in the voluntary sector.