The Guide to UK Company Giving 2019/20
The leading guide which includes details of 400 companies and 128 associated corporate charities in the UK that support community and voluntary organisations.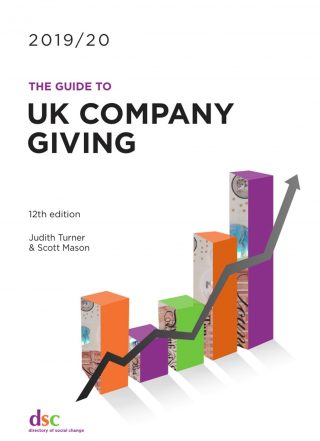 How can you maximise your chances of winning corporate support in the UK? You need to know which companies give, why they give, what their criteria are and how to ask in the right way.
Offering insight into 400 companies that collectively contribute around £400 million in the UK cash donations and in-kind support, The Guide to UK Company Giving helps you to do just that. 
Who is this book for?
Both voluntary organisations seeking support from corporates, and companies looking to develop their community giving strategy, should own this indispensable guide. Research organisations and individuals investigating UK corporate giving and CSR will also need this key resource.
What does it cover?
The guide includes details on companies' giving strategies and advice on how to identify those companies most likely to support your organisation. It also contains a full description of each company's community activities and a separate section on 128 corporate grant-making charities.
Each entry includes an at-a-glance profile, outlining: 
Corporate social responsibility (CSR) information

 

Levels of giving in the UK and whether in cash or in kind

 

Partnerships, including Charity of the Year

 

Matched funding and payroll giving

 

Pro bono work 

 

Commercially led support, including sponsorship
'This guide is a brilliant and invaluable resource for charities and companies alike. Looking at it, I feel more confident than ever that the chorus of responsible businesses is on the brink of becoming a roar. I hope that – like me – you can't wait to hear it.'

Amanda Mackenzie OBE Chief Executive, Business in the Community [from the Foreword]

'This book has been an invaluable starting point to help pinpoint prospects and refine our prospect list. It has helped to improve the quality of prospect research and significantly reduced the amount of time spent on it.'

Suzanne Smith, New Business Lead, London's Air Ambulance Charity

'An invaluable resource when building a corporate pipeline for all charities. The book gave us solid, concise background information guiding us efficiently to design a strategic approach for support.'

Vicki Siddall, Trust and Corporate Fundraiser, Ronald McDonald House Charities

'A simple to use guide to make company giving easier. Bringing together information about a range of companies in one place, it helps support charities in working towards strategic fundraising. For us, it allows fundraisers to understand who we are, how we give, and how best to approach us. A must-read for any fundraisers!'

Andy Rubin​, Chair, Pentland Brands Limited

'A clear, easy to use guide to UK company giving. It has proved to be an excellent research resource which puts a wealth of information at your fingertips.'

Emily Gibson, Researcher, University of Glasgow, UK

'We found this guide to be the most comprehensive source on how companies give, their level of engagement with charities and who they partner with. It's been a hugely useful resource for us to get a sense of the current landscape and spot opportunities for corporate partnerships.'

Stephen Lavery, Market Insight Manager, Macmillan Cancer Support

'The quality and reliability of analysis put this directory head and shoulders above comparable publications. An invaluable resource for both researcher and fundraiser alike.' 

Stephen Brammer, Executive Dean, Faculty of Business and Economics, Macquarie University, Australia
Look inside
Have a look inside Guide to UK Company Giving 2019
About the authors
Judith Turner
Judith joined DSC in January 2017. As a senior researcher, she contributes to DSC's funding guides and helps maintain the fundraising websites. Prior to joining DSC, Judith worked and volunteered in the charity and arts sector for over ten years. 
She has a MA in Sociology from the University of Manchester and her dissertation examined how cuts to funding has affected the arts sector and artist employment in Liverpool. 
Scott Mason
Scott Mason joined DSC in January 2018. He has a BA (Hons) and an MA (Hons) in Politics and International Relations from Lancaster University. 
Since joining DSC, Scott has co-authored the 16th Edition of The Guide to Major Trusts and has assisted with the development of DSC's Funds Online fundraising website. 
Prior to working for DSC, Scott worked as a researcher with a number of voluntary sector organisations including, The Centre for Internet & Society, where he conducted research into privacy and big data.  
His current interests include social value, corporate social responsibility, co-production and digital fundraising.