The Porcupine Principle
Being a fundraiser is exciting and fulfilling, but also full of challenges. You know what is important but how do you communicate that to potential supporters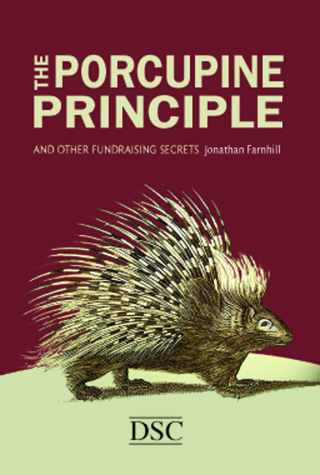 *Print edition sold out, PDF, epub and mobi still available.
And how do you keep your motivation when the money isn't rolling in?
The Porcupine Principle is your down-to-earth and irreverent guide that will turn everything you assumed about fundraising on its head. You'll start to think differently about raising money for your organisation.
It features 33 mini-stories that illustrate Farnhill's key premise: it's not the 'how' of fundraising that you need to perfect, but rather understanding the motivations of people who give.
Who should buy this book?
This is a book for fundraisers and fundraising managers who are open minded enough to step away from the norm and try something new. You won't regret it.
What does it cover?
Interwoven with practical fundraising tips and advice, this book will make you reflect deeply on how you fundraise.
The power of stories, and getting your donors to listen.
Full of proven theories, with a few 'try it and see' principles in there too.
Get out of the office and among your donors if you really want to understand them.
The five essential truths of fundraising.
What people say about this book
"Contains a wealth of ideas from someone who has been there and done it." Stuart Etherington, Chief Executive, NCVO

"Deserves to be the fundraising book of the year." Peter Fletcher FFIA, CFRW University Hospital Birmingham Charities
Look inside
Have a look inside The Porcupine Principle.
About the author
Jonathan Farnhill
Jonathan is Chief Executive of Exeter Royal Academy for Deaf Education. He is also a Trustee of Signature, a charity that is an awarding body for sign language qualifications. In the past he has  also been Vice-Chair of Governors at Clyst Vale Community College and Chair of Chime, a social enterprise delivering audiology services in the south west.
Jonathan's speaks at events around the county on speak on fundraising, marketing and management book. His book, The Porcupine Principle, quickly developed into a unique, fundraising classic.
Buy as downloadable pdf - Pay by card only
What is pdf?
Price
£9.60

(£8.00 + VAT)
Buy as downloadable epub - Pay by card only
What is epub?
Price
£9.60

(£8.00 + VAT)
Buy as downloadable mobi - Pay by card only
What is mobi?
Price
£9.60

(£8.00 + VAT)