The Russell-Cooke Voluntary Sector Legal Handbook
Are you looking after your donors' money properly? Is that project within the law on campaigning? Have you kept to your stated mission and charitable objectives? What happens if you don't file your annual report on time?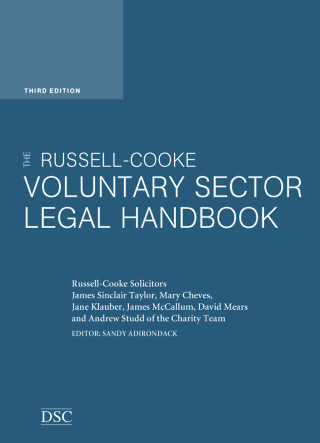 Legal worries are one of the key things that keep chief executives and trustees awake at night. And it's made even worse by not always knowing what the law even is!
This is your single, comprehensive reference guide covering everything that the law and legislation requires of charities and not-for-profits, including the most recent changes and even predictions for the future.
If you want to operate within the law and have your bases covered, you cannot afford to be without this guide.
Who should buy this book?
This is a high level reference guide for chief executives, trustees, finance managers and senior management teams.
What does it cover?
With its logical structure and comprehensive index, you'll easily find what you're looking for.
Structures of not-for-profit organisations, and your varying obligations.
Employment law: how to make sure you comply and what to do when something goes wrong.
How the law affects objectives, projects, services, assets, activities and more.
Where legislation stands on campaigning for policy and political change.
'Our last copy was so well used that the pages started to fall out. Anybody working with voluntary and community groups should get this book.' Martin Trinder, Chief Officer, Mid and North Beds CVS

 

'Notable for its clarity and attention to detail – an essential read if you are a legal or other professional advising a charity.' Bev Cross, Legal Consultant, Voluntary Action Sheffield

'This book often answers the questions that others don't even ask; detailed but written in an accessible style, it is an essential reference tool for anyone interested in the law for voluntary organisations.' Bill Prouse, Solicitor and Legal Adviser, Age Concern England
Look inside
Have a look inside the Voluntary Sector Legal Handbook.
About the authors
James Sinclair Taylor
James is Head of the Charity and Social Business Team at Russell-Cooke LLP advising social enterprises, not for profit public bodies, including local authorities, mutuals and charities. He is the Author of the Russell-Cooke Voluntary Sector Legal Handbook published by the Directory of Social Change.
James has been a trustee of a range of charities including a housing association, a college of further education, a development trust, three grant makers, information providers and campaigning charities. He is currently a trustee of Shelterbox, an international aid charity, and of Swanage & Purbeck Development Trust.
James led a community law centre and then founded Sinclair Taylor & Martin, which merged with Russell-Cooke. He is a member of the Charity Law Association.