Welfare Benefits and Tax Credits Handbook 2021/22
The definitive guide to the social security system, and an essential resource for all advisers who are serious about giving the best and most accurate advice to their clients.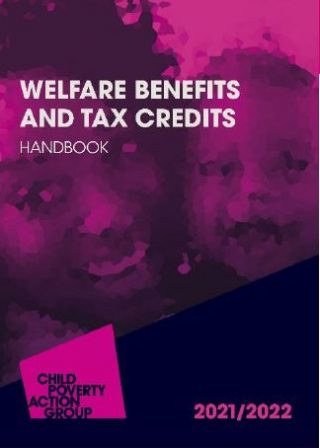 This book is now sold out.
This new edition provides comprehensive information on your entitlement to benefits in 2021/22. It includes the latest on universal credit and legacy benefits as well as the impacts of the ending of the UK's transition period from the EU (31/12/2020). The latest rules, including on migrating to universal credit, work-related responsibilities and changes to the right to reside in the UK are covered in detail. The edition also covers the continuing expansion of the Scottish social security system, with further details provided on young carer grants, child payments and child disability payments.
Tactical guidance and examples are included throughout to help you navigate and increasingly complex social security system. The handbook is also fully indexed and cross-referenced to law, regulations and official guidance as well as to court, tribunal and judicial decisions.
Who should buy this book?
The Handbook remains the essential resource for welfare rights advisers, lawyers, local authority and housing association staff, social workers, union officials and benefit claimants.
In need of welfare benefits?
If you are not a welfare advisor but are yourself in urgent need of welfare benefits or support and think you would benefit from the information in this directory, organisations who may stock the directory as one of their resources are as follows:
the welfare or careers department of schools, colleges and universities
reference libraries
citizen's advice bureaux
member offices of Advice UK (adviceuk.org.uk)
educational advisors at local councils
Ask the organisations above if they stock the book as a resource. If they don't then encourage them to stock the latest edition to enable them to help you and point them to this page to buy the book at the best price.