Welfare Benefits and Tax Credits Handbook 2019/2020
The definitive guide to the social security system, and an essential resource for all advisers who are serious about giving the best and most accurate advice to their clients.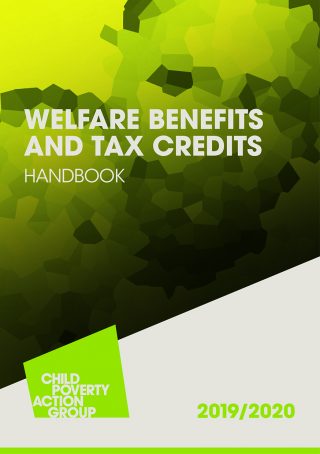 The book provides comprehensive information about entitlement to all benefits, together with full details on the rules about work, work-related responsibilities and the work capability assessment, the income and capital rules, benefit sanctions, the 'bedroom tax', overpayments, fraud, and how to challenge decisions. The Welfare Benefits and Tax Credits Handbook provides comprehensive advice about entitlement in 2019/20.
It has been newly restructured, making it easier to use, and refocused to bring universal credit to the fore.
Who should buy this book?
The Handbook remains the essential resource for welfare rights advisers, lawyers, local authority and housing association staff, social workers, union officials and benefit claimants.
What does it cover?
This edition includes new and updated information on:
The introduction of universal credit, including the latest on the migration process and who must still claim the old means-tested benefits.
The latest information on how Brexit will affect benefit entitlement.
A brand-new section covering the new benefits system in Scotland.
It is fully indexed, for ease of use, and cross-referenced to law, regulations and official guidance, and to court and tribunal decisions. Tactical guidance and examples are included throughout to help you navigate the complexities of the social security system.
'The most comprehensive and user-friendly publication in the field of welfare benefits… An absolute must for welfare rights workers as well as those giving general advice.' The Adviser
'The best value in publishing… The reference manual of choice for professional advisers.' Solicitors Journal

'Simply the best and most vital guide… That money can buy.' Community Care
In need of welfare benefits?
If you are not a welfare advisor but are yourself in urgent need of welfare benefits or support and think you would benefit from the information in this directory, organisations who may stock the directory as one of their resources are as follows:
the welfare or careers department of schools, colleges and universities
reference libraries
citizen's advice bureaux
member offices of Advice UK (adviceuk.org.uk)
educational advisors at local councils
Ask the organisations above if they stock the book as a resource. If they don't then encourage them to stock the latest edition to enable them to help you and point them to this page to buy the book at the best price.