Voluntary but not Amateur
However you run your charity, you need to keep within the law.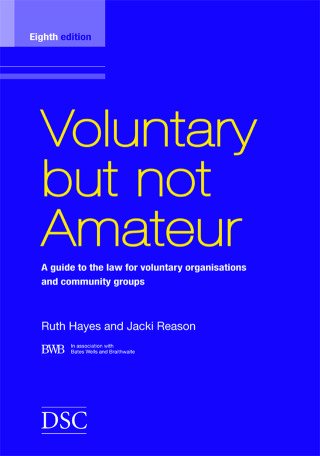 But there's so much of it to keep track of. Did you know, for example, you need a licence to play music at your events?
This intricately detailed guide takes legal issues you could have thought of, as well as hundreds you won't have, and outlines the law as it relates to charitable organisations in a readable and easy to use way.
It'll help you ensure you're complying with charity legislation, and might also give you ideas for new and innovative ways to use the law to your own advantage.
Who should buy this book?
This is particularly useful for the trustees' and senior managers' book shelf, but anyone working for a charity should have access to this indispensable guide to how the law affects their role.
What does it cover?
Your accessible and indispensable guide for anyone who wants to understand how the law affects voluntary organisations.
Fully up-to-date, with the latest charity legislation.
Outlines your obligations on everything from risk assessments to employment law.
Make sure your policies and practices are watertight, including those on new areas like data protection, email and internet use.
Features checklists to help you ensure you comply with even the most obscure laws.
What people say about this book
"An essential tool – comprehensive, easily accessible answers to every question you've ever had about running a charity, all in a clear layout with checklists and signposts to further information." Rebecca Hilsenrath, Chief Executive, LawWorks
"Since its publication in the 1980s, VBNA has been absolutely essential to me and a book I genuinely recommend to anyone wanting to run a voluntary group." Rodney Hedley, Secretary to the Trustees, Hilden Charitable Fund
Look inside
Have a look inside 'Voluntary but not Amateur' 
About the author
Ruth Hayes
Ruth Hayes is a retired independent social researcher. She worked across all sectors including central and local government, academic institutions, the voluntary sector and charitable trusts. She is co-author of Voluntary but not Amateur.
Jacki Reason
Jacki Reason is a retired freelance and editor and writer with over 35 years' experience of the voluntary sector. She is former head of London Voluntary Service Council's Information and Publications Department. She sat on a number of boards of voluntary organisations and was project manager of Portraits for Posterity recording the portraits and stories of Holocaust survivors. She is co-author of Voluntary but not Amateur.