Worldwide Fundraiser's Handbook
If you need to raise funds for your work all over the world, this handbook will help you find the right funder, for the right project, in the right place.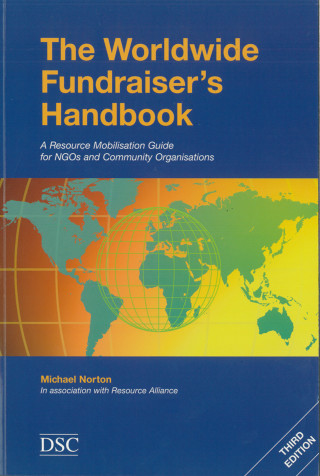 The world of fundraising has changed: it's saturated with new technology and communications are easier. But the challenges of raising money for projects remain the same.
This book offers an overview of the worldwide fundraising terrain, including a new breed of international philanthropist and an emphasis on social enterprise, with sound advice on how to raise money in a globalised economy.
Now in its third edition, it remains the must-have handbook on raising money around the world.
Who should buy this book?
This is a must-read for international fundraisers working to raise funds locally.
It is also useful for fundraising consultants, and even for funders themselves.
What does it cover?
This book is packed with advice and case studies to help you raise the international money you need.
Traditional fundraising techniques, as well as those more appropriate in a global setting.
How fundraising is changing across the world, including insights into emerging trends.
New sections on internet and smart phone fundraising.
Revised and up-to-date resources section.
What people say about this book
'Fundraising is an art, but it needs expert knowledge, techniques and tools to ensure success. This book will provide you with the vital toolkit to help you succeed.' Tony Elischer, Managing Director, Think Consulting Solutions

'A must for millions of non-profits in emerging markets.' Anup Tiwari, Donor Relations Specialist, UNICEF India Country Office

'We need tools like this to keep our fundraising up-to-date.' Marianne "Mayan" Quebral, Executive Director, Venture for Fundraising, Philippines

'This is the first book I read when I moved into international fundraising and one I continue to refer to and recommend.' Amanda Seller, Director of International Fundraising, UNHCR
Look inside
Have a look inside Worldwide Fundraiser's Handbook.
About the author
Michael Norton
Michael Norton OBE is major and influential figure within the voluntary sector. He is the founder of several influential charities including The Directory of Social Change, Changemakers, Youthbank UK and is also a founder and trustee of UnLTD – the foundation for Social Entrepreneurs – in both the UK and India. He is currently Honorary Director and a Trustee of Centre for Innovation in Voluntary Action (CIVA).
Michael is also the author of numerous books on fundraising including Writing Better Fundraising Applications, The Worldwide Fundraiser's Handbook, and The Complete Fundraising Handbook all published by Directory of Social Change.