Your Chance to Change the World
So you want to change the world? You know you have the drive and vision, but do you know how to turn your dreams into reality?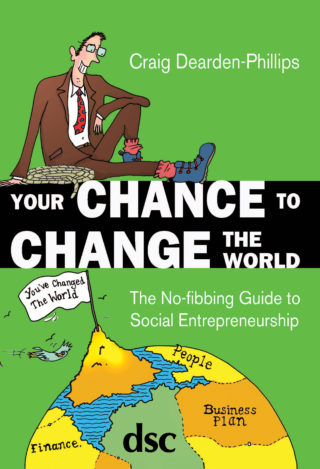 Sold out of print edition but digital versions still available
This book offers you valuable, practical advice about how to set up and sustain your own social enterprise.
It covers everything from writing your business plan and clarifying your social aims, to raising start-up funding and getting it all under way.
With social enterprises now a leading driver of change in society, there's never been a better time to get started.
If you're feeling the urge to take action don't wait – seize the day.
Who should buy this book?
This exciting book is for those with passion and ideas for changing the world, but who need a helpful leg-up to making their dreams happen.
Yet even established social enterprises will find something new and inspiring in this book.
What does it cover?
This classic text on social enterprise is filled with real-life stories and down-to-earth information.
How to write a business plan that is credible but also encompasses your passion.
How to find like-minded souls, who have the skills to make it work.
The importance of finance, accounting and making your enterprise's money work harder.
Advice from established and successful social entrepreneurs.
What people say about this book
'Setting up a social enterprise can be a daunting process – this new book provides excellent tips and practical ideas to support the would-be social entrepreneur.'

Jonathan Bland, CEO, Social Enterprise Coalition

'Insightful. Honest. Well written. Timely. Want to be a social entrepreneur? Read this book.' 

Liam Black, Director of Fifteen

'A great source of advice for anyone starting out and a really useful reminder to the veteran social entrepreneur that you are not alone.' 

Matt Stephenson-Dodd, CEO, Unique Social Enterprise CIC and Social Enterprise Ambassador
Look inside
Have a look inside Your Chance to Change the World.
About the author
Craig Dearden-Phillips
Craig is Founding CEO of Stepping Out, a venture helping UK public services to develop social enterprise and Chairman of the Stepping Out Foundation for start-up social ventures. A serial entrepreneur he also founded Speaking Up, now the disability charity Voiceability, as a 23-year old. It won a Third Sector Excellence Award, a Queen's Award for Voluntary Service and Community Care Award for Learning Disabilities.
He  is a regularly columnist for The Guardian and MJ magazine and a sought-after public speaker. Craig is a Mutuals Ambassador for UK Government's Cabinet Office and a Trustee of Impetus Trust, the UKs foremost venture-philanthropy organisation. Craig is a Fellow of the University of Cambridge and a Visiting Lecturer at Cass Business School.
Buy as downloadable epub - Pay by card only
What is epub?
Price
£9.60

(£8.00 + VAT)
Buy as downloadable mobi - Pay by card only
What is mobi?
Price
£9.60

(£8.00 + VAT)